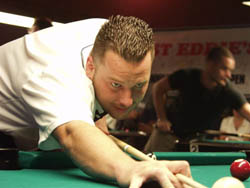 Dennis Hatch
Dennis Hatch avenged his only loss and won the Gabriels Open 8 Ball Professional Players Championship being held as part of the Super Billiards Expo in Valley Forge PA.
Hatch remained undefeated until the quarter final match for the hot-seat where he lost 5-3 and 5-4 to Mike Davis.
Hatch went to the left side of the board where Ralf Souquet was waiting. Hatch cruised to a quick 4-0 lead in the first set against Souquet but scratched on the break and watched Souquet come back to tie the set at 4-4. Hatch was breaking in the case game and ran the rack for the first set win. The second set also went hill-hill, but this time it was Souquet who was breaking. Souquet ran out the rack to force a single game to determine the winner. As is so many times the case in sudden death games, the lag was the most important shot and Hatch won it. Hatch proceeded to break and run the rack to earn the rematch with Mike Davis in the finals.
Hatch won the first set of the finals 5-3, but it was Davis with the early 4-1 lead in the second set. A scratch on the break in the 6th game by Davis led to three games won by Hatch and another hill-hill set. The final game was on Davis' break, but he came up dry and had to sit and watch Hatch run the final rack.
Hatch earned $10,000 for first, while Davis settled for $6,000 in prize money. Souquet and Shawn Putnam filled out the top four spots.
File photo courtesy of Diana Hoppe - Pool Pics by Hoppe. Tournament information courtesy of Timberly Pike.