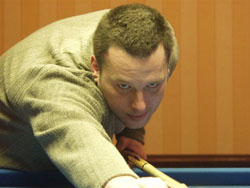 Dennis Hatch
Hatch wins Joss Season Opener
Dennis Hatch went undefeated to win the first stop on the 2005-2006 Joss NE 9-Ball Tour season at Drexeline Billiard Club in Drexel Hill, PA.
Hatch took the hot-seat with a 9-7 win over Jerry Slivka and got comfortable waiting for an opponent in the finals. And found Eddie Abraham waiting. Abraham had lost his first match of the tournament to Mark Pantovic, but won seven straight matches to get to the semi-final match. Abraham gave it all he had, but came up just short in a 9-8 loss to Slivka.
Slivka's rematch with Hatch was fairly one sided as Hatch cruised to a 9-4 win for first place.
Hatch won $1700 for first place, while Slivka took home $1160 for second. Abraham and Lee Holt filled out the top four spots.
The Joss NE 9-Ball Tour will be at Salt City Billiards in N. Syracuse, NY for their next event on September 17th and 18th.
Complete Results:
1st Dennis Hatch $1700
2nd Jerry Slivka $1160
3rd Eddie Abraham $800
4th Lee Holt $600
5th-6th Danny Basavich, Allen Hopkins $400
7th-8th Mark Pantovic, Joe Dipietro $250
File photo courtesy of Diana Hoppe - Pool Pics by Hoppe