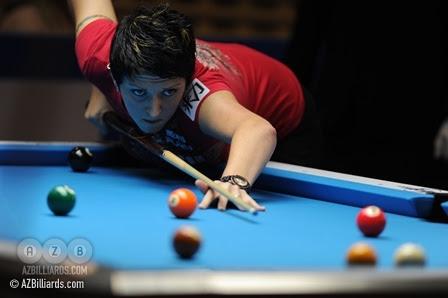 The WPA World number 2 is out of intensive care and recovering after undergoing heart surgery.
The World Pool-Billiard Association is pleased to announce that multiple world champion and current WPA World number 2 ranked player Kelly Fisher of Great Britain has successfully undergone surgery for her heart condition, and is now recovering in hospital.
WPA President Ian Anderson reported that he personally spoke with Fisher soon after her surgery on July 22nd.
"I just spoke with Kelly Fisher and her operation has been successful," Anderson said. "She is now out of Intensive Care and in a normal hospital room."
The 35 year old Fisher was diagnosed with a large atrial septal defect earlier this year. This is more commonly known as a "hole in the heart".
The West Yorkshire is expected to have a three month recovery period. She said she is hoping to be fit and ready to compete in the 2014 Women's World 9-ball Championship, which will take place in Guilin, China in October.
Because of the surgery, Fisher will be forced to miss the WPA World Team Pool Championship, which will be held in Beijing beginning on July 28th. Fisher's replacement on the United Kingdom team will be her good friend and Hall of Famer Allison Fisher.
Fans wanting to send their best wishes to Fisher can do so through her Facebook page, "Kelly Fisher."