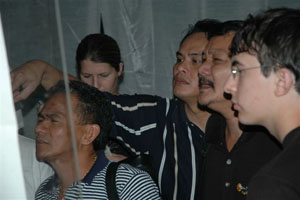 Francisco Bustamante, Efren Reyes and Santos Sambajon check the tournament board
Play continued on day two at the Big Apple 9-Ball Classic and the evening rounds contain numerous all-star matches.
The main event of the night in most fans eyes looks to be Efren Reyes vs Earl Strickland as they continue their long rivalry. Other big matches include Danny Harriman vs Alan Rolon, Danny Basavich vs Niels Feijen and Gabe Owen vs Francisco Bustamante.
Earlier in the day on Friday, another top seed took an early trip to the one loss side when home town favorite Tony Robles dropped a 10-7 decision to Sean Morgan.
Brackets are updated with match results and look for a photo gallery from the event to be posted soon.
Photo courtesy of Diana Hoppe - Pool Pics By Hoppe