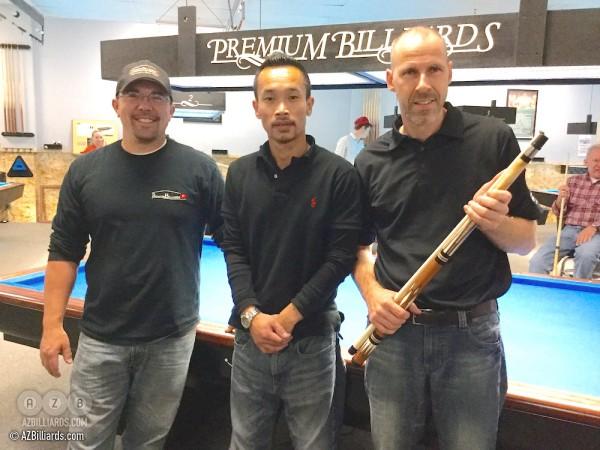 Premium Billiards manager Mark Ruzekowicz, Bucky Souvanthong and Danny Hewitt
Danny Hewitt and Kevin Ketz were the big winners when the Joss NE 9-Ball Tour found itself at Premium Billiards in Syracuse, NY on the weekend of October 17th - 18th.
Hewitt took the main event with an undefeated run through a field of 48 players. His place in the hot-seat was no gimme though, as he narrowly defeated Marco Kam 9-8 in that match. On the one loss side, the story was Bucky Souvanthong. After losing his second match, Souvanthong had been mowing down opponents on the one loss side. Souvanthong eliminated Kam 9-5 for his spot in the finals. It was Souvanthong's second appearance in the finals in as many weeks, and he took early command with a 3-0 lead in the first set. Souvanthing led the match 5-2, when Hewitt took control and won seven straight games for the 9-5 win and first place. In addition to the $1000 first place prize, Hewitt was also the lucky raffle winner of the $1,700 custom engraved Joss cue for this stop.
Sunday's second chance tournament saw Keviin Ketz return to the winner's circle in a field of 19 players. Ketz defeated Jamie Garrett 3-0 for the hot-seat, and then defeated Dave Mils 3-1 in the finals.
The Joss NE 9-Ball Tour will be at Raxx Pool Room, Sports Bar and Grill this weekend (October 24th - 25th), for another $1500/$500 added event. With most of the big guns on the east coast in Virginia for the US Open, the timing is perfect for a newcomer to earn a win on the tour.
Tour director Mike Zuglan said that the upcoming Turning Stone Classic XXV is over 2/3 full, and players are urged to contact him at 518-356-7163 to get their entry fees in.