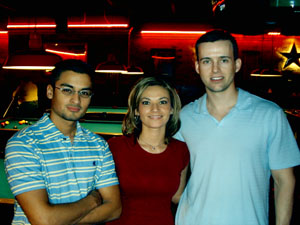 Sylver Ochoa, Linda (mgr.), and Chris Walden
The Fast Eddie's 9 Ball Tour began in February of 2003 at the Fast Eddie's Culebra location in San Antonio, Tx. and returned on April 9-10 as the Fast Eddie's Olhausen 9 Ball Tour sponsored by Schuler Legacy Cues with 96 players in two divisions.
Seventy-five men from all over the Southwest braved the near perfect weather to support the $1500 added open division.
Top picks were Jui Lung Chen, David Gutierrez, David Henson, Sylver Ochoa, James Davis Sr. and Doug Young. As always, the field was very competitive as there were many hard close battles with the level of play increasing steadily as the season progresses.
Today belonged to the young gun, Sylver Ochoa of McAllen. The turning point in the tournament for Sylver came against the seasoned and straight shooting Robert Almaraz. Robert looked as if he would never miss and held an 8-3 lead, when suddenly, Sylver countered with a run of six consecutive games to claim the match and he never looked back.
Barry Emerson of Dallas and Eduardo Ramirez of San Antonio filled out the fourth and third positions respectively.
Chris Walden of Dallas had a great tournament by playing solid 9 ball. After defeating Eduardo, he earned his shot at Sylver for the final match.
In the final match, Sylver jumped out to a 7-2 lead. Chris showed a lot of heart with a run of four games to make it 7-6. From there, the players traded games with Sylver coming out of top, 9-7. Sylver gained his fourth Tour victory in two years.
Thanks to Bob Hamilton (GM-Culebra), his assistant, Linda, and their fine staff for hosting a fun event. Also, a big thanks to Olhausen Billiards for showing you are 'The Best in Billiards' with your support. Brian of Schuler Legacy Cues, along with Bubba and Schonne of Cue Sales & Service (The National Distributors of Schuler Cues), we couldn't do it without you! A special thanks to Jack Kompan of Mystick Cues, our mentor, for all your help, support, and keeping our heads on straight on and off the tables! Thanks to Gerald Walters for stepping in at the last minute to help with the cue repair. And last and far from least, if you're ever in ole' San Antone and get an urge for authentic Mexican cuisine, make a run to Tino Lopez's restaurant, Theodore's, on the northwest side. You won't be disappointed!
See y'all in Houston next month on April 30-May 1 at the Fast Eddie's on Fuqua. Check out the Tour schedule here at azbilliards.com or at fasteddies9balltour.com.
Complete Results:
1st Sylver Ochoa $3950
2nd Chris Walden $2750
3rd Eduardo Ramirez $1860
4th Barry Emerson $1200
5th/6th Jeff Sorrell, James Davis Sr. $675
7th/8th Fred Gardener, Robert Almaraz $380
9th/12th Charlie Mora, Shane Waltrip, Tony Hinojosa, Destry Ensley $140
13th/16th Robert Newkirk, David Gutierrez, James Davis Jr., Doug Young $100