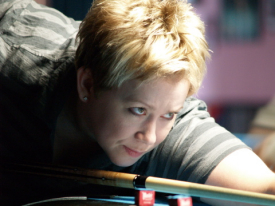 Tracie Hines
The finals of the 2008 Florida State Ladies Championship was a tale of two comebacks.

Since winning the Ladies Spirit Tour's Player of the Year title in 06, Tracie Hines had not finished first in a tour event. Her opponent in the finals, Diana Minor, is trying to make her way back on to the WPBA. Minor has not competed in the WPBA since the 2000 season.

Hines path the finals was a dominating one. Hines didn't allow one opponent to score more than four racks against her and won her last two matches against Debbie Schjodt and Helene Caukin by a combined score of 14-4.

Minor was undefeated through Saturday's matches, but dropped a 7-5 decision to Helene Caukin on Sunday morning. A win over Emily Wilmoth was followed by a hill-hill comeback win over Schjodt and a rematch with Caukin on the one loss side for Minor. With Hines already qualified for the 2009 US Open (which this event was a qualifier for), Caukin and Minor's match would be for the qualifier.

Minor won the rematch decisively to earn the qualifier spot and a match with Hines in the finals.

The finals would turn into multiple extended safety battles and Hines safety game proved to be stronger than Minor's on this day. The final match and State Champion title went to Hines 7-2.

Hines won $700 for first, while Minor settled for $400.