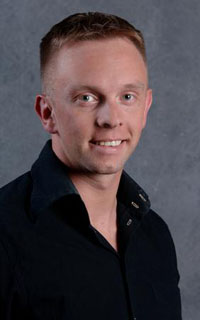 Thorsten Hohmann
Olhausen Billiard Manufacturing, Inc. was, once again, proud to be the Official Table Sponsor at the 2005 ESPN ZONE BILLIARDS SHOOTOUT held October 5-6 in Las Vegas. Thorsten Hohmann defeated Corey Deuel for the SUDDEN DEATH 7-BALL crown and Stefano Pelinga bested Nick Nicolaidis for the TRICK SHOT MAGIC title.
ESPN Zone was host to two international fields, both playing for $40,000 total purse (no entry fee) and $25,000 first place prize money in each event. SUDDEN DEATH 7-BALL and TRICK SHOT MAGIC were both taped for three 1-hour telecasts on ESPN beginning in November.
SUDDEN DEATH 7-BALL was the first tournament, played on October 5, and drew an international lineup battling for the $25,000 first prize. The action in 7-Ball is fast and furious (the speed of light compared to 9-Ball) with two sets, race to seven games each set, and a sudden death single game deciding ties.
Hohmann and Deuel emerged from the pack as the top guns. In the Championship Match, Hohmann overcame Deuel by scores of 7-2 and 7-2 to capture the title and the money. Deuel, who otherwise played flawlessly during the tournament, took home $5,000 for second place. In semifinal action, Deuel edged out Niels Feijen 7-6 and 7-5 in a hard-fought match that went hill-hill in the first set. The other semifinal saw Hohmann break past Shawn Putnam in straight sets 7-4 and 7-4. World class players who were knocked out in quarterfinals single elimination included 2005 WPA World Champion Chia-Ching Wu, former World Champion Johnny Archer, 2005 Masters Champion Francisco Bustamante, and 2005 Gran Prix Americano Champion Frankie Hernandez.
TRICK SHOT MAGIC, which was played on October 6, also featured a stellar international cast vying for $25,000 first prize. The matches required each player to execute 4 Skill shots and 6 Artistic shots in a challenge format. Players challenged their opponents with shots of their choice, with each player forced to make the shot to score a point.
Stefano Pelinga and Nick Nikolaidis displayed their brilliance to emerge as the top trick shot artists. The Championship Match was poetry on green felt, with the score tied 7-7 and a sudden death tiebreaker that required an eight-rail bank shot onto the face of a $100 bill. The players each had one shot and Pelinga placed the cue ball directly on the face of the $100 bill to take the crown and $25,000. Nikolaidis, who otherwise played to top form in the event, claimed $5,000 second prize. In tightly fought semifinal action, Pelinga prevailed over Tom Rossman, 14-9. The other semifinal saw Nikolaidis slip past 2004 World Artistic Pool Champion Luke Szywala by a neck-and-neck score of 12-11. International trick shot stars who were bumped off in quarterfinals single elimination included Four-Time Trick Shot Magic Champion Mike Massey, 2004 Masters Artistic Pool Champion Andy Segal, 2004 South American Artistic Pool Champion Sebastian Giumelli, and 2004 Artistic Pool Stroke Champion Bruce Barthelette.
The standing-room-only crowd gave Thorsten Hohmann and Stefano Pelinga a rousing ovation at the conclusion of the final matches. The winners checks were presented by ESPN Zone and Olhausen Billiards, and Viking Cues presented a one-of-a-kind cue to each of the champions. The presentations brought another round of cheers from the audience.
In addition to the fine tournament site at ESPN Zone, the event was sponsored by Viking Cues, Olhausen Billiards, Aramith Super Pro Balls, Mueller Recreational Products, Simonis Cloth, the Association for P.O.O.L., Original Italian Slate, Ozone Billiards and Silver Cup Chalk. The WPA sanctioned event was produced by Matt and Bettiane Braun of Billiards International, Ltd. in association with Allen Hopkins.
Olhausen, located in Poway, California, is known for their beautifully hand-crafted pool tables and fine line of matching game room accessories. The Olhausen Authorized Dealer Network extends throughout the United States and the world. Olhausen products are proudly made in the USA and are available in Oak, Maple, Cherry, and a variety of exotic hardwoods, which can be custom-finished to match your décor. Olhausen Billiard Manufacturing, Inc. is celebrating over 30 years in the business and has consistently pursued a tradition of dedication to Quality, Service, Selection, and Value. These attributes have earned the company the title of "The Best in Billiards." For more information about Olhausen or its products, call 1-800-866-4606 or log on to Olhausen's World Wide Web Site at (http://www.olhausenbilliards.com).