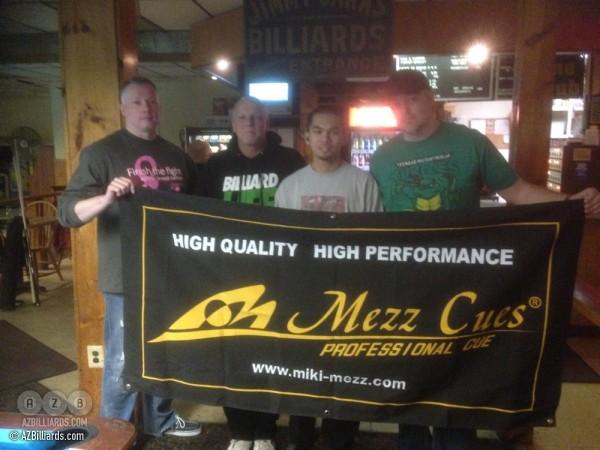 Rob Hontz, owner Bob Maidhof, Michael Praseutsy and Wes Dobson
From among the final eight on the winners' side of the bracket in the opening stop on the 2014 Mezz Tour, Rob Hontz fought a double hill, ultimately unsuccessful battle against Mike Saleh, which sent him to the loss side. Hontz then won five in a row, and fought an ultimately successful battle against hot seat occupant, Michael Praseutsy, to claim the title. The $1,000-added, A-D handicapped event, held on the weekend of January 10-11, drew 32 entrants to Drexeline Billiards in Drexel Hill, PA.
With Hontz out of the way, Saleh moved into a winners' side semifinal against
Wes Dobson
, while Praseutsy faced Gary Serano. Saleh ended up in a second straight double hill match, but this one sent him to the losers' bracket and Dobson into the hot seat match. Praseutsy downed Serano 7-3, and then, by the same score, got into the hot seat over Dobson.
Hontz began his trek back to the finals with his second straight double hill match, winning this one, over George Ellinger. He came within a game of a third double hill match when he defeated Vinny Cimarelli 7-5, which set him up to face Serano. Saleh picked up
Mark Nanashee
, who'd shut out A.J. Fitzgerald and defeated Owen Collins 7-4 to reach him.
Hontz' opportunity for a re-match against Saleh was denied him when Nanashee defeated Saleh, double hill. Instead, after giving up only a single rack to Serano, Hontz faced Nanashee in the quarterfinals, where a 7-4 win gave him a shot at Dobson in the semifinals.
Hontz took full advantage. He gave up another solo rack to Dobson and entered the finals with a 35-17 loss-side record. By agreement, Hontz and Praseutsy opted out of a double elimination final, agreeing to play a single match for the title. Hontz won it 7-5 to claim the first stop on the 2014 Mezz Tour.
Tour director
Jose Burgos
thanked owner
Bob Maidhof
and his Drexeline Billiards staff, as well as sponsors Mezz Cues, Gamblin Clothing, Kamui Chalk, JD Custom Cues,
Allen Hopkins
Super Billiards Expo,
John Barton
, JB Cases, Jabcues and Things, Billiard Life, Howitzer Break Cues, and Steve Klapp Custom Cues.