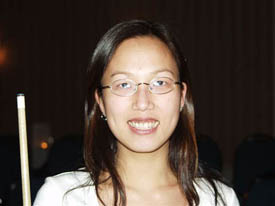 Hsin Huang
The Northwest Womens Pool Association held their second stop of the season at Dr. Cue Billiards in Shoreline WA this weekend where Hsin Huang came back from the one loss side to defeat Cindy Doty for the tournament win.
Huang lost to Kim Gates early in the tournament but got her second chance against Gates in the semi-final match where she won 7-3. The extended race to 9 finale was a bit anti-climactic as Huang rolled to a 9-2 victory over Doty.
Huang collected $520 for the win and Doty settled for $348. Gates and Linda Carter filled out the top four spots.
The NWPA will be at The Cue Ball in Salem OR on April 12th - 13th for their next event.
Photo courtesy of Diana Hoppe - Pool Pics by Hoppe
Complete Payouts:
1st Hsin Huang $520
2nd Cindy Doty $348
3rd Kim Gates $248
4th Linda Carter $190
5th/6th Allie Shaffer, Wendy Sedlacek $118
7th/8th Julie Stallings, Natalie Wiita $88
9th/12th Mary Hopkin, Mona Remedios, Martha Hartsell, Jo Woodward $74