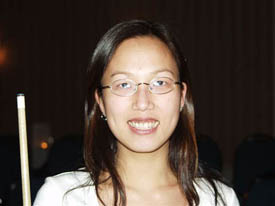 Hsin Huang
With four straight wins on the Northwest Women's Pool Association tour this year, it was only fitting that Hsin Huang win the season finale this weekend at The Breaking Point in Lynnwood, Oregon.
Huang won the final match against Katherine Czarkowski, but it was close. The score was tied at 7-7 when Huang ran a rack to get to the hill and then won the match with a 9-ball on the break.
Huang collected $693 for first place, and Czarkowski settled for $405. Jackie Fitchner from Eugene Oregon and Regine Springett filled out the top four spots.
There was very little question as to who the player of the year would be on the tour. With Huang winning five of the seven tour stops, she ran away with player of the honors. Martha Hartsell took the #2 spot on the tour and also won the Sportswoman of the Year award.
Complete Payouts:
1st Hsin Huang $693
2nd Katherine Czarkowski $405
3rd Jackie Fitchner $311
4th Regine Springett $217
5th/6th Deby Welfringer, Andrea Saenz-Maes $152
7th/8th Tiffany Taylor, Kim Gates $114
9th/12th Josie Leroy, Mary Olson, Cindy Doty, Linda Carter $98
13th/16th Junko Araki, Cathy Young, Julie Valdez, Andy Ruth $74