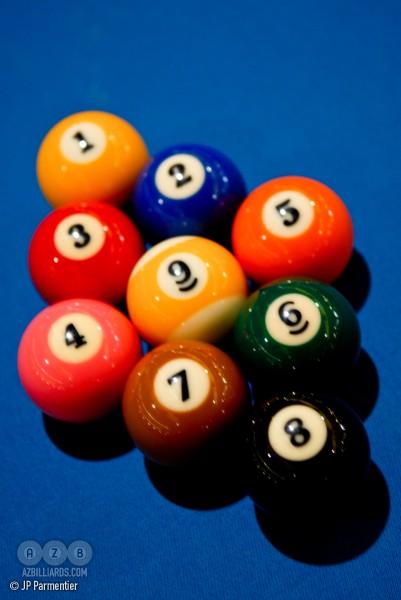 Six of the last 14 matches played on the September 12-13 stop on the Viking Cues' Q City 9-Ball Tour went double hill, attesting to a high level of competition among the 51 entrants who signed on to play at the Gate City Billiards Club in Greensboro, NC. The field featured a mixture of tour veterans and relative newcomers and one of the newcomers, Hunter Apple, went undefeated to chalk up his first tour victory. 
Apple faced two tour veterans in the hot seat and finals. One of them, Scott Howard, was Apple's opponent in a winners' side semifinal. The other, Daniel Adams, squared off against another tour veteran, Landon Hollingsworth, in the other winners' side semifinal. Hollingsworth won two of the tour's events last month.
Apple got into the hot seat match with a 5-1 victory over Howard. Adams joined him after surviving a double hill fight against Hollingsworth. With Adams racing to 6, Apple claimed his first hot seat 5-4 and waited on what turned out to be the return of Howard.
On the loss side, Howard opened his three-match, loss-side campaign that would put him into the finals, against Anthony Mabe, who'd recently chalked up two straight double hill wins, over Joe Woo (7-5) and Joey Tate (7-7). Hollingsworth drew Cameron Lawhorne, who'd survived a double hill match versus Jerry Wyatt and eliminated Don Lilly 6-2. 
The final six players renewed competition on Sunday with Lawhorne downing Hollingsworth 6-4 and Howard defeating Mabe 7-5. Howard won the quarterfinal match that followed, defeating Lawhorne 7-5.
Howard then defeated Adams 7-3 in the semifinals. It was fitting that the final match between the veteran and the newcomer went double hill. With Howard racing to 7, Apple won the five games he needed to chalk up his first major tour victory.
Tour directors Herman and Angela Parker thanked the ownership and staff at Gate City Billiards Club, as well as title sponsor Viking Cues, Bar Pool Tables, Delta 13 Racks, AZBilliards, Tickler Pool Ball Washing Machine, Skyline Construction, Federal Savings Bank Mortgage Division and Dirty South Grind Apparel Co. The next stop on the Viking Cues' Q City 9-Ball Tour, scheduled for this coming weekend, Sept. 19-20, will be a $250-added event, hosted by a new venue for the tour, West End Billiards in Gastonia, NC.