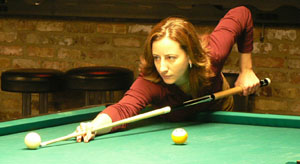 Julia Gabriel
The Hunter Classics Women's Tour is in action this weekend with a field of 36 players at Magoo's in Tulsa, Ok.
The usual assortment of top players are in attendance including Amanda Lampert, Heather Pulford, Julia Gabriel, Kyu Yi, Leslie Anne Rogers, Lisa Brannen, Melinda Hinojosa and Samm Diep.
Brackets are drawn and the first results are already in. Follow all of the action with our online brackets.