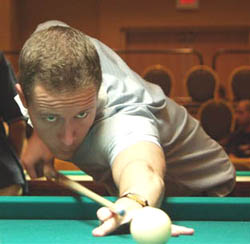 Mika Immonen
The 3rd Annual Scorpion Open drew some top names in the game today including Scorpion star Johnny Archer and friends Mika Immonen, Rodney Morris, and Charlie Williams. Local talents Mike Davis and Dave Bollman were on hand as well as strong New Englander Jarrod Clowery.
The event kicked off with a Boys and Girls Club Charity Event. The pros were on hand to challenge the fans for a Scorpion Cue to the winner. In the Sponsor Pro Am, Jerry Grant of Seaport Amusements teamed up with Rodney Morris to defeat Cuestix Representative Andrew Weber and Mika Immonen in the finals of the Scorpion Open Sponsor Pro Am Tournament.
No big upsets in the first few rounds until the top names met. Williams sent Morris 9-5 to the left side while the hot player though was Mike Davis as he cut through the top ranked UPA pros all in a row including Archer 9-1, Immonen 9-7, and Williams 9-7 to reach the finals.
Immonen then came back with wins over MOrris 9-7, Archer 9-5, and then Williams lead 8-5 in the semi-finals but Immonen turned on the ice as came back with a 9-8 victory.
In the finals, it was all Immonen as he lead the entire match and defeated Davis 13-9 for the win. This was the first time Immonen had beaten Davis in his 3 meetings with him.
Complete Results:
1st Mika Immonen $1500
2nd Mike Davis $1000
3rd Charlie Williams $750
4th Johnny Archer $550
5th/6th Rodney Morris, Jarrod Clowery $375