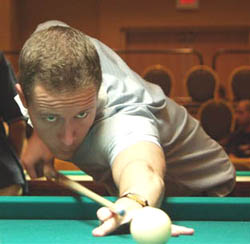 Mika Immonen
As the regional tour with the biggest payouts, The Seminole Florida Pro Tour usually draws some of the top talent in men's pool from all over the east coast. This weekend at Stroker's in Palm Harbor Florida, it was some of the regions top local players that shined while well known pro players failed to cash.
The list of players that failed to cash included Earl Strickland, Tommy Kennedy, Jimmy Wetch, last stop's winner Robb Saez, Scotty Townsend, Richie Richeson, Mario Cruz, Ron Park and Steve Knoll.
While those players were being systematically sent to the bleachers, it was Charlie Williams cruising to the hot-seat which he took with a 9-4 win over local hotshot Donnie Mills. While this was going on, Mika Immonen was exacting some revenge on Dan Lavoie. Lavoie handed Immonen a 9-3 loss early on Sunday, but Mika got the last word in as he eliminated Lavoie 9-2.
Immonen continued his hot play and eliminated Mills 9-4 to set up the final extended match with Williams for the tournament.
The final match stayed close until the midway point, but it was Immonen who pulled away and scored the 13-8 win in the finals.
Immonen pocketed $3500 for first, while Williams settled for $1900. Mills and Lavoie filled out the top four spots.
The Seminole Florida Pro Tour will be at Pro Billiards in Orlando, Florida for a $10,000 added event on May 27th - 30th.
Complete Payouts:
1st Mika Immonen $3500
2nd Charlie Williams $1900
3rd Donnie Mills $1300
4th Dan Lavoie $1100
5th/6th Ben Conway Jr, Ray Martin $850
7th/8th Edgar Acaba, David Grossman $650
9th/12th Adam Wheeler, John Ditoro, John Stone, Buddy Hall $450
13th/16th Tony Crosby, Josh Degler, Luis Viera, Nomar Paula $350