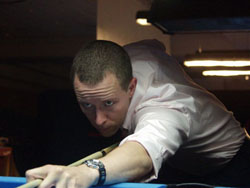 Mika Immonen
Mika Immonen came back from the one loss side to avenge an earlier loss and win the 4th Annual UPA Atlanta Open at Murphys Brass Rail in Athens Georgia.
Immonen lost to Earl Strickland on Saturday after scoring wins over Steve Moore, Robb Saez and Shawn Putnam in earlier matches. The loss to Strickland didn't deter Immonen as he came back through the one-loss side with wins over Luc Salvas, Mike Davis and Troy Frank to earn another shot at Strickland in the finals.
After Strickland defeated Immonen in the their first match, he went on to defeat Troy Frank 10-4 for the hot-seat and made himself the odds-on favorite to win the tournament with his brilliant play all weekend. It was a different Strickland in the finals however, as he seemed lethargic and unable to get anything. He quickly fell behind to Immonen and to be fair, an 'in-stroke' Strickland would have had a hard time keeping up with Immonen once he started rolling. In the end, it was Immonen scoring a very one sided 11-3 win.
Immonen earned $10,000 in prize money, while Strickland settled for $5000. Troy Frank and Mike Davis filled out the top four spots.
Check out our online brackets for all of the match results.
Complete Payouts:
1st Mika Immonen $10,000
2nd Earl Strickland $5,000
3rd Troy Frank $3,000
4th Mike Davis $2,500
5th/6th Luc Salvas, Tony Robles $2,000
7th/8th Corey Deuel, Shawn Putnam $1,400
9th/12th Robb Saez, Danny Basavich, Steve Moore, Larry Nevel $900
13th/16th Tony Crosby, Johnny Archer, Young-Hwa Jeong, Tim Hall $500

File photo courtesy of Diana Hoppe - Pool Pics by Hoppe