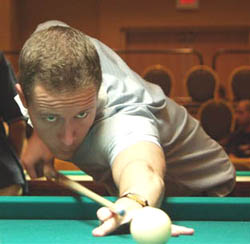 Mika Immonen
Mika Immonen has won the UPA Pro Tour Championship at the Bicycle Club in Bell Gardens, Ca.
Immonen was undefeated throughout the event, with wins over Tang Hoa, Buddy Hall, Max Eberle, Jose Parica, Alex Pagulayan and Ralf Souquet on his way to the hot-seat.
Souquet ended up in third place after losing to Charlie Williams 11-6 on the one-loss side. Williams had lost to Souquet on the winners side, but came back with seven wins on the left side of the board to get to the finals.
After back-to-back wins over Efren Reyes and Souquet, Williams looked like he might be able to come from the one-loss side and win it all. The finals were all Immonen though, as he cruised to a 13-2 victory and the $10,000 payday. Williams settled for $5000 for second.
Follow all the match results with our online brackets.
Photo courtesy of Diana Hoppe - Pool Pics by Hoppe