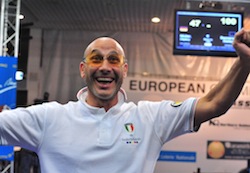 Straight Pool European Champion Stefano Bazzana (ITA) Foto: EPBF/DK
Italian wins straight pool crown in Luxembourg

Tuesday, 09 August 2011: In the Dynamic European Seniors Championship, Stefano Bazzana from Italy snatched the title in the straight pool discipline. He crushed Heiko Müller from Germany with 100:47.

The final match was mainly the show of Bazzana. But it was not like that all the way through. In the beginning of the final, both players showed equal strength, pocketing all makeable shots. When the scoreboard showed 30:30, the match flipped in favour of Bazzana. He simply made fewer mistakes than Müller, and he better adjusted to the shot clock that the match was put under by the tournament officials. Bazzana made the score 66:36 when Müller got another chance at the table. But he only played 10 balls before he let the Italian back to the table. The next time, Müller entered the stage the score was 83:36 for Bazzana. It looked like Müller had already given up. He made another ball but missed the very next one. In the end, Bazzana rightfully won the match with 100:47 over Müller and deserved to take the title in straight pool.

Tomorrow, the tournament will continue at 09:00 local time with the first rounds of the team competition before it will switch to 10-ball at 13:00.

The European Championships are hosted by the European Governing Body for Pool, the European Pocket Billiard Federation (EPBF) and organized by International Billiard Promotion (IBP). For further information and reference please go to the federation website www.epbf.com , follow us on twitter @EPBF_News or contact our press office.