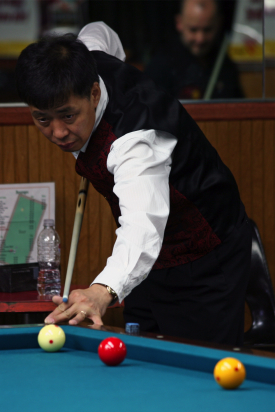 Jae Hyung Cho - Photo courtesy of Ashi Fachler
The strongest field of players in decades for a West Coast 3-cushion tournament assembled last week in San Diego, California to participate in the first 2008 College Billiards International Open tournament hosted by room owners Pedro Piedrabuena and Timoteo Moreno.

The tournament, which was the third stop in the USBA Tour of tournaments, was played over three days, June 20 – 22, and featured nine Champions from three countries: three time U.S. Champion Pedro Piedrabueana, 2006 U.S. Champion Mazin Shooni, 2003 U.S.champion Hugo Patiño, 2005 U.S. Champion Sonny Cho, four time U.S. National Champion Frank Torres, Korean Champion Jae Hyung Cho, Mexican and CPB Champion Guillermo Sosa, many times Mexican and CPB Champion Luis Avila, Mexican and CPB Champion Rodolfo Covarrubias, and Mexican Artistic Champion Roberto Rojas.

Attracted by the strong competition, excellent conditions and an excellent prize fund, 41 players from across the country and Mexico battled through three rounds in well organized and smooth operating tournament, followed by a fantastic artistic exhibition by Roberto Rojas. Play was on six Verhoeven tables just covered with Granito cloth. First round matches were to 25 points, and all later matches were to 35 points. The first round consisted of five flights, all playing round robins. The top finishing two players from each flight advanced to the semi-finals. Two more players were added at that point through an auction and a lottery for the semi-final round. The resulting twelve players were then divided into two flights of six, each of which played a round robin. In the finals, the top finisher in the first semi-final flight played the top finisher in the second semi-final flight for 1st and 2nd place, and the same process was followed for 3rd and 4th, 5th and 6th, and so forth.

Of course, in the end there could be only one winner. And that person was Korean champion Jae Hyung Cho, now living in Denver, Colorado, who came from behind midway through the 1st/2nd place final match in his victory over Luis Avila 35 – 29. Play throughout the tournament was at high level, with many players averaging over 1.000 in their matches in all rounds. The semi-finals saw eight out of twelve players averaging over 1.000, with four players averaging over 1.200, and two players with best games averaging 2.00. In the finals, five players averaged over 1.000, with Pedro Piedrabueana averaging 2.059, Hugo Patiño averaging 1.591, Mazin Shooni averaging 1.522, and Guillermo Sosa averaging 1.207. High run for the tournament was 15, with that honor going to both Roberto Rojas and Salvador Diaz.