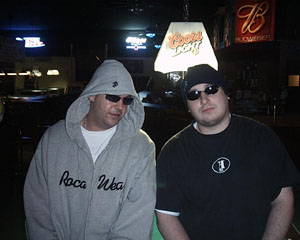 Shannon Schroeder and Jamey Bowman
The seventh stop of the 2006/2007 McDermott All American Tour (produced by the American CueSports Alliance – ACS) featured a $500-added purse and forty-seven players, hosted by owner Mark Hammerl at Billiards on Main in Galesburg, Illinois, on Saturday, December 9. The event featured double-elimination 8-ball on bar boxes, and Jamey Bowman of E. Moline, Illinois - rated a "5" on a regional handicap system – marched undefeated to the finals. Jamey clipped Rich Bideaux (Moline, IL) [5] 5-4 in the A-side finals to take the hot seat. Matches in the B-side bracket leading up to the tourney finals included Fred Fechter (Peoria, IL) [4] subjugating Mike Ryan [4] to 5th place by a 4-1 margin and Shannon Schroeder (Chicago, IL) [5] eliminating Joel Valente (Sterling, IL) [5] 5-4, tying Valente with Ryan. Schroeder built up his momentum by ousting Fred Fechter 5-3 and Rich Bideaux 5-3 and gaining a title shot at Bowman. Schroeder took the first set from Bowman 4-5, but Bowman recovered to take the deciding set for the title 5-3!
By virtue of Jamey Bowman being the highest-finishing ACS member, he qualified for a free singles entry into the 2007 ACS Nationals in Las Vegas – courtesy of the ACS. The ACS wishes to thank sponsors McDermott Handcrafted Cues, Silver Cup Chalk, Billiard Wholesalers and Pro Series Cases for their support in donating "Value-In-Kind" product for this stop on the McDermott All American Tour. Sponsorship opportunities are still available by contacting the ACS.
The weekend of Saturday-Sunday, December 16-17, will feature two Tour events: 1). Big Dog Billiards in Des Moines, IA, hosting a $1,000 added 8-ball stop on bar boxes (contact Randy Hanson at 218-234-9393), and 2). Main Street Billiards in Tucson, AZ, hosting a $1,500 added 9-ball stop on 9-foot Gold Crowns (contact Bob Jackson at 520-546-3464). Information, entry details and schedules for the 2006/2007 McDermott All American Tour are available at www.americancuesports.org. The ACS is a non-profit, national organization dedicated to heightening the interest and awareness of cue sports through the support and sanctioning of organized competition throughout the United States and North America.
Final Results:
1st Jamey Bowman $400
2nd Shannon Schroeder $260
3rd Rich Bideaux $180
4th Fred Fechter $120
5th/6th Joe Valente Mike Ryan $90
7th/8th Mike Herrera, Shane Johnson $70
9th/12th Bill Lotz, Dan Clark, Scott Cohen, Harold Robinson $40