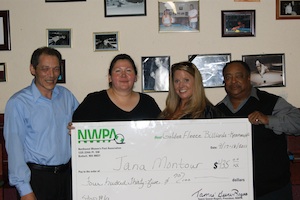 On September 17-18th, Golden Fleece hosted the NWPA's 6th Tour Stop of 2011. Located in Kenmore, WA, the Fleece has ten 9-foot Diamond and ten 7-foot Diamond tables, some of the toughest equipment in the great Northwest. Newly renovated the room now offers a menu of food and liquor to go along with its action filled atmosphere. Tournaments offered include Friday night 9 ball on the big tables, Saturday night 9 ball on the small tables, and the room is trying to organize 1 Pocket tournaments for Sunday afternoons, also on the big tables. We would like to thank the Golden Fleece for their continued support of the NWPA, they have hosted two events per year since 2009 and the warm reception by owner and staff makes their stops some of the favorites for the ladies on tour.
We would also like to thank our title sponsor Mueller for their support. Please continue to show your support of the NWPA by going to Mueller's website at www.mueller.com. Mention the NWPA during your order and receive a discount on all Mueller merchandise. Raffle tickets are still available for the Year End Event that will be hosted at The Parlor in Bellevue, WA on November 19-20th, two for $5/five for $10, need not be present to win.
Liz Cole
brought some donated Chocolate for raffle at this event and Debbie Cicchitti was the big winner.
Rail2Rail Productions provided a free Live Stream for the entire event. Along with Rail2rail staff, Guest commentators included Leo Violette, Kimberly Kirk, and
Jana Montour
. Billiards 911 Trivia Challenge winner
Pauline McGrath
aka luckoftheroll won a box of blue Master chalk and a 5 QClaw. Rail2Rail's next live streaming will be a Breast Cancer Benefit concert in support of the American Cancer Society on October 7th, and their next pool coverage will be the Western BCA Regional 9 Ball Championships from Lincoln City, OR October 11-17th.
Twenty-nine ladies came out for the main event that was played on nine of the 9 Foot Diamonds including newcomer Stella Speedis. Welcome to the NWPA, Stella! Defending her Queen of the Fleece title and winning the last two stops, Liz Cole was definitely a favorite going into the event. After a long day of fierce competition, only 8 ladies remained to compete for the title. On the A side: Jana Montour vs.
Mary Hopkin
and Kimberly Kirk vs.
Kim Jones
. Jana and Kim both defeated their opponents by the score of 7-5 to earn their spots in the A side final. Jana continued her streak by defeating Kim by the same 7-5 score to take the hot seat. On the B side:
Shelby Locati
vs.
Mikki Small
and Liz Cole vs.
Deby Welfringer
. Shelby and Liz defeated their opponents 6-3 and 6-2 respectively, leaving Mikki and Deby with a 7/8th place finish. In the second round of B side play, fresh off their first losses, Mary and Kimberly then played Shelby and Liz. Mary and Liz advanced through by the scores 6-4 and 6-3, to then square off against each other. Liz continued her strong play and defeated Mary 6-1. Liz then had one obstacle between her and her 3rd final in as many stops: Kim Jones. Longtime friends and rivals, this match up was a good one. Consistent shot-making by Liz put her on the hill at 5-3. Kim, not one to concede early, battled back through the next rack to bring the score to 5-4. With Kim breaking, people in the live stream were thinking hill-hill all the way. Kim broke in that 10th game and played perfect position through the rack until coming up short on her shape to the 9 ball. Kim attempted the near 90 cut along the end rail, but rattled the 9 leaving it in the pocket, along with any hope of advancing. Liz pocketed the final 9 to win that match 6-4.
THE FINAL: Jana Montour vs. Liz Cole, Race to 9, Alternating Break
Jana's path to the final: Jessica O (6), Alisha R (3), Liz C (4), Mary H (5), Kim J (5)
Liz's path to the final: Kathy S (2), Shelby L (6), loss to Jana (4), Sabrina P (5), Deby W (2), Kimberly K (2), Mary H (1), Kim J (4)
Liz won the lag. Straight from the start both players were shooting pretty well. A couple uncharacteristic misses by Liz in the first three racks resulted in an early 3-0 lead Jana. Liz rallied back to 3-2; however a missed bank on the 1, in rack 6, left Jana shooting a 1-6-9 combination which she made to take the score to 4-2. Liz answered with an early 9 in the following rack when a position error on the 5 left Jana jumping. Jana jumped the 8 and the 5 to give Liz that rack making the score 4-3. Jana would proceed to win the next five racks when missed shots and safes by Liz, late in the racks, resulted in Jana capitalizing on her opportunities. Jana ended Liz's winning streak (last two NWPA events) to claim the Queen of the Fleece title and move up in the rankings from 4th to 2nd place; however with Liz's strong finish she solidified her position on top of the standings and will be the 2011 NWPA Tour Champion.Great job ladies!
Nine ladies returned on Sunday for the $100 added Second Chance tournament.
Suzanne Smith
won her first 3 matches to earn her spot in the final, while Sabrina Petersen quietly dispatched all of her opponents, after a 2nd round loss to
Jessica Orth
. The final was one race to four. Consistent shot making and position play by Sabrina during the final resulted in her winning top prize. Great showing Sabrina!