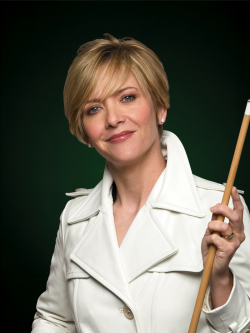 Allison Fisher
Las Vegas, Nevada- The Black Widow, The Duchess of Doom, The Texas Tornado, Kwik Fire, Little Lightning, G-Force, and The Viper are some of the names of the super powered billiard women attacking the 9th Annual Predator International 10-Ball Championship. Ozone Billiards will be presenting this year's lineup of 112 players at the Riviera Hotel & Casino May 11-16,2009 during the BCAPL's National 8-Ball Championships. In total, there will be a sizeable league of 13 world class women looking to make a serious dent into the egos of the men's elite club.

Jeanette Lee, The Black Widow, will be making her debut appearance at The Predator International 10-Ball Championship. Lee has seen a resurgence of her top game and the hunger that drove her to be the WPBA #1 back in 1994. Lee has been seen matching up and competing with top men's players frequently of late, and has already started the women's calendar with a bang at a #3 ranking. With a full slated calendar of competitions this year including events in Korea the following week after Vegas and then the Women's World 10-Ball Championship in Manila, Lee could have another career year at this pace.

" I can't wait to play in the 10ball Open! Playing against the men is a great opportunity and challenge but I'm playing well and ready to take down some victims!" , warns The Black Widow.

"The Duchess of Doom" Allison Fisher will be making her second consecutive appearance at the event. Last year the Fisher finished 25th out of the 96 player field, one out of the money but the highest finishing woman. She had highlight wins over Spain's #1 David Alcaide and Dominica's Champion Gareth Esprit. Fisher till this day holds the world record of women's pro billiards titles won at 72, and has been one of the most successful women pros against the men.

Many fans will be interested in seeing if Jasmin Ouschan can do in 10-Ball what she did in straight pool. The 22 year old Austrian Ouschan ousted World #1 Mika Immonen and defending champion Oliver Ortmann at last year's Predator World 14.1 Championship on route to an inconceivable 3rd Place finish at a men's World Championship, and in a game that most would say takes more skill than 9-ball.

Other players of note will be the progressively improving 21 year old Yu Ram Cha of Korea, who is currently ranked #5 in the world. Cha has won and placed high in several men's open pro/am events and has been on a increasingly high rate of improvement since debuting in America in 2007. WPBA 2008 Player of the Year Kelly Fisher , Vivian Villarreal, Gerda Hofstatter, Melissa Little, Sarah Rousey, Kim Shaw and Angel Paglia will also be forces to reckon with during the event.

"I don't think I've ever seen a major men's pro event with this many high calibre women's players. If it's true to history, there will definitely be some upsets," predicts men's pro Charlie Williams, Ranked in the top 5 in the USA. " A year ago no one could have seen a woman making it to the final four of a men's event, and then Jasmin (Ouschan) finishes third. With this many top women, this event has more of a chance of a woman winning the event than ever before. It's going to be exciting to watch."

Tickets can be bought in advance at www.dragonpromotions.com For more info on The Predator International 10-Ball Championships go to www.predator10ball.com

Ozone Billiards is also joined by www.Jbetpoker.net, Simonis Cloth, Diamond Tables, Laser Rack, Uni-Loc, and the event host BCA Pool Leagues in this Dragon Promotions production.

Predator Group, an international billiards industry leader, is focused on bringing constant innovation and game-improving equipment to billiards players worldwide. Headquartered in Jacksonville, Florida, USA, Predator Group's core brands include Predator Cues – high-end (professional level) cues with revolutionary technology to enhance performance, Poison Billiards – recreational cues with cutting-edge designs and Predator engineering for best-in-class playability, and Uni-Loc® – precision billiards equipment manufacturer. For more information regarding Predator Group's products, visit www.predatorgroup.com.