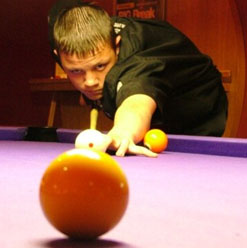 Phil Burford (GBR) Foto: EPBF/AMM
10-ball European Champion left no chance for Burford

Saturday, 21 April 2012: In a thrilling semi-final match, Dominic Jentsch (GER)
smashed Phil Burford (GBR) with 8:3.

Jentsch continued where he stopped the round before. He played rock solid and approached the table in the way that makes him so special: self-confident and "hungry" for the victory. His opponent was able to cope with it for the first few racks. But then Jentsch got a 6:3 advantage over Burford. His break shot was better and his performance in total was more solid than Burford's. In the 10th rack Jentsch wins a safety exchange but happens to miss a makeable 8-ball. Luckily for him, he leaves a tough shot for Burford. The British youngster misses the shot and also leaves a tough shot for Jentsch. These situations separated the wheat from the chaff. Jentsch played
a masse shot and pocketed the 8-ball, then pocketed two more tough shots and went on the hill, leading 7:3. Then Jentsch took a time-out. When he came back, he broke the balls and scratched on the break. The ball on was the 2-ball which was lying awfully close to the center pocket. Burford managed to pocket the 2-ball and get position for the 3-bll, but then missed the 3-ball. That sealed his fate. Jentsch cleared the table again and won the match with 8:3. He will now advance and challenge David Alcaide for the title of the Dynamic Italian Open.

The event is hosted by the European Governing Body for Pool, the European Pocket
Billiard Federation (EPBF) and organized by International Billiard Promotion (IBP). For further information and reference please go to the federation website www.epconline.eu , follow us on twitter @EPBF_News or contact our press office.