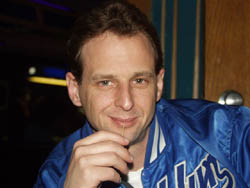 Joe Tucker
When Joe Tucker took over as tournament director for the Joss NE 9-Ball Tour, he knew that he would not be able to play in the events and run them as the same time. He must still be getting time in to practice though as he went undefeated through the field of 52 players at the Viking Cue 9-Ball Tour stop at Accu-Billiards in New Bedford, MA over the weekend.
Tucker defeated 'The X-Man' Mike Xiarhos Sr for the hot seat and then defeated Tom D'Alfonso 9-7 in the finals for the win.
Tucker collected $1500 for first, while D'Alfonso settled for $1100 in second place prize money. Xiarhos and Mike Davis filled out the top four spots.
Viking Tour Director Mike Janis commented after the event that he couldn't think of a room that he was more impressed with than Accu-Billiards and he could't wait to get back there for another event.
Mike won't have long to wait, as Accu-Billiards will be hosting the $15,000 added Joss Tour Finale this weekend. We will have complete coverage of that event with brackets and pictures all weekend long.
Photo courtesy of Diana Hoppe - Pool Pics by Hoppe
Complete Payouts:
1st Joe Tucker $1500
2nd Tom D'Alfonso $1100
3rd Mike Xiarhos Sr $700
4th Mike Davis $510
5th/6th Scott Tocci, Chris Leal $300
7th/8th Rob Hammack, Mike Yamauchi $90
9th/12th Shane Cote, Mike Deneault, Carlos Vieira, David Lemay $60
13th/16th Larry Dethomas, Rich Kravetz, Randy Labonte, Tim Perry $60