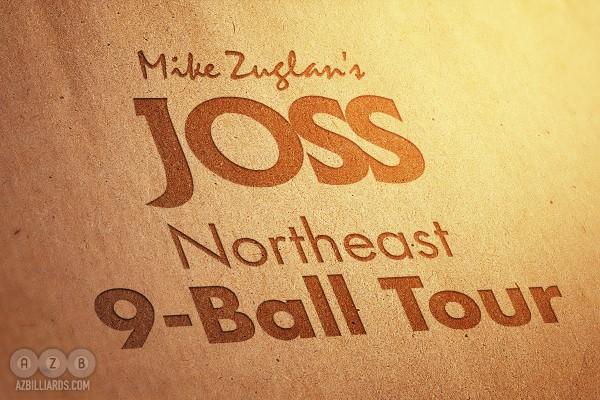 Dear Players & Fans,
Please do not reply to this email. Send all replies and inquiries to mzjosstour@aol.com or call Mike Zuglan at 518-356-7163.
Congratulations to stop 9 winners, Jeremy Sossei (Northeast 9-Ball Open XXXIII Champion, $1,100) & Jim Kearney (Second Chance Event, $300)
Snookers Billiards Sports Billiards Bar & Grill (Providence R.I.) and Mike Zuglan's Joss Northeast 9-Ball Tour are proud to present the 12th Annual New England Pool & Billiards Hall Of Fame Ray Desell Memorial 9-Ball Open. Although there will not be any inductions this year, this is just one more way that our hosts Regina & Steve Goulding continue to show their devotion and generosity to our sport.
Snookers is also one of the best restaurants in the Providence area. Check them out at www.snookersri.com and thanks again to Steve & Regina for putting up the $3,000 added, and once again allowing us the use of their great room for our event. Trophies will be awarded to the top finishers in the main event. Also, Whether you come to play, or just watch, you will have the opportunity to win a gorgeous, custom, engraved Joss Cue, valued at $1,900, by participating in Snookers cue raffle. Anyone can participate  and you don't have to be present to win! The drawing will be just prior to the final match of the main event on Sunday Feb. 6th. So come on down and play and win, watch for free, have some great food and drink, and take a chance at a $1,900 Joss Cue.
Snookers has arranged a special rate of $149 + Tax  at the Marriott Downtown (across the street), 1 Orms St, Providence RI 02904 401-272-2400. Use this link to book the Marriott,https://www.marriott.com/events/start.mi?id=1643152004897&key=GRP   OR  $89 + Tax (1 bed), $99 + Tax (2 beds) at Woodspring Suites, 181 Corliss St, Providence RI 02904, 401-519-9641.Mention Snookers to get these rates. All are strictly based on availability!
This event at Snookers will consist of a $2,500 added Saturday and Sunday Main Event (entry Fee $120 for pro level or $70 for non pro level) and a $500 added consolation event on Sunday ($20 Entry Fee) for those non pro players eliminated from the main event on Saturday
For those of you coming to play, please arrive on Saturday March 5 Before 11:00 AM, and in proper dress please. Yes, jeans and sneakers are permitted in our billiard parlor events. But please, NO T-shirts, tanks, shorts or sweats. Complete tour info can be found on our site www.joss9balltour.com
As of this writing there is still no word from Turning Stone regarding our season finale, the $25,000 Added Turning Stone Classic XXXV 9-Ball Open, scheduled for September 1-4, 2022. I will let everyone know of their decision as soon as I know.
Lastly, I can't stress enough how important it is for all of you to please frequent your local billiard parlors and utilize the services of our most generous sponsors who are the backbone of our sport. These are the ones who keep our sport alive. So get out and play!
Mike Zuglan
The Joss Northeast 9-Ball Tour Is Proudly Sponsored By;