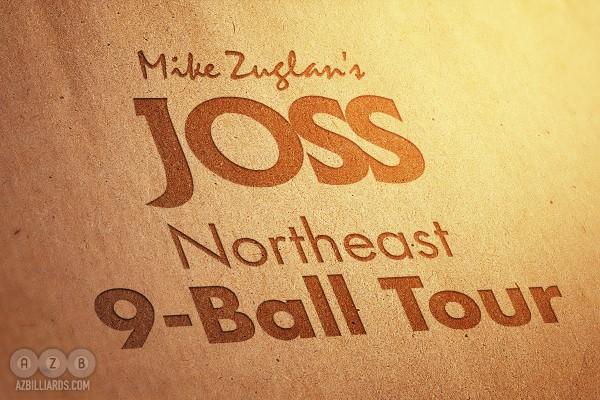 Players & Fans,
Congratulations to Stop # 3 winners Mika Immonen ($1,050), Holden Chin ($300, second chance) & $1,900 custom, engraved Joss Cue raffle winner, Marvin St John
Stop # 4, of my Joss Northeast 9-Ball Tour's 2022-2023 season will take place on October 8 & 9 at Sharp Shooters Billiards & Sports Pub in Amsterdam NY. Tim & Julie Berlin also own Trick Shot Billiards & Sports Pub in Clifton Park NY. Sharp Shooters is the home of some of the Diamond Pro tables that were used at one of our Turning Stone Classic events not long ago. Sharp Shooters is a full service facility with a full bar, a complete pub food menu, darts, arcade games, nightly entertainment and most recently a tournament quality indoor Bocce Ball court. There is something for everyone of all ages, every day of the week at Sharp Shooters. More information can be found at their site www.sharpshootersbilliards.com or call them at 518-627-4634.
FYI, Sharp Shooters is for sale and any interested parties should contact owner Tim Berlin directly at 518-944-6797
If you will be in need accommodations, try one of these two nearby motels. Super 8, 5502 Rt 30, Amsterdam NY 12010, 518-843-5888 OR Valley View Inn,1351 NY Rt 5s, Amsterdam NY 12010, 518-842-5637.
This event at Sharp Shooters Billiards & Sports Pub will consist of a $1500 added Saturday and Sunday Main Event (entry Fee $120 for pro level or $70 for non pro level) and a $500 added second chance event on Sunday ($20 Entry Fee) for those non pro players eliminated from the main event on Saturday. All of our billiard parlor main events are now races to 9 on the winners side and races to 7 on the one loss side.
For those of you coming to play, please arrive on Saturday Oct 8th BEFORE 11:00 AM, and in proper dress please. Jeans and sneakers are permitted in our billiard parlor events. But please, No T-shirts, No tanks, No shorts or sweats. Complete tour info can be found on our site www.joss9balltour.com
Please note that our $25,000 Added Turning Stone Classic XXXVI 9-Ball Open on January 5-8, 2023 is fast approaching and is currently full pending some "checks in the mail" If you would like to be on our waiting list for this Mosconi Cup and BCA official ranking event, NOW is the time to contact me at 518-356-7163
Please do not reply to this email. Only mzjosstour@aol.com works for me.
Please remember to spread the word to frequent your local billiard parlors and utilize the world class products of our most generous sponsors. They are the backbone of our sport and deserve our support!!
Thanks and I hope to see you all at Sharp Shooters.
The Joss Northeast 9-Ball Tour Is Proudly Sponsored By;
Joss Cues – http://www.josscues.com
Turning Stone Resort Casino – http://www.turningstone.com 
Simonis Cloth – http://www.simoniscloth.com
Poolonthenet.com – http://www.poolonthenet.com
AzBilliards.com – http://www.azbilliards.com
Aramith – http://www.aramith.com
Billiards Press – http://www.billiardspress.com
World Class Cue Care – http://www.jnj-industries.com