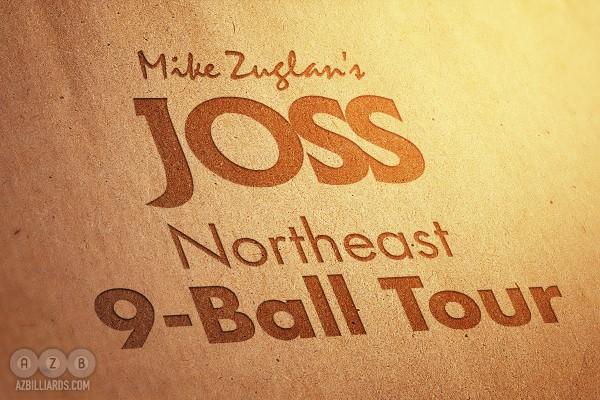 Everyone,
Congratulations to stop 8 winners, Bucky Souvanthong ($1,000 Main Event), Aaron Greenwood ($330 second chance) and $1,900 Joss Cue raffle winner Mauri Cotter
THE NYS MASK MANDATE HAS BEEN LIFTED SO MASKS ARE NO LONGER REQUIRED!!
The Joss Northeast 9-Ball Tour stop # 9 will be at Sharp Shooters Billiards & Sports Pub in Amsterdam NY on February 19 & 20 for our "Northeast 9-Ball Open XXXIII". Tim and Julie Berlin, owners of Sharp Shooters, deserve much thanks for once again hosting our event and allowing us the use of their beautiful room. Sharp Shooters is the home of some of the Diamond Pro tables that were previously used at one of our Turning Stone events as well as six, 7 foot Diamond bar boxes. All covered in 860 Simonis, "The Cloth Of Champions". At Sharp Shooters there is something for everyone. You can enjoy a friendly game of Pool, Foosball, Darts and even two tournament quality indoor Bocce Ball courts, all while meeting friends out for some food, drinks & to watch the game. A fun and friendly atmosphere for all ages! They feature a Pub Menu that has all of your favorites, as well as a full service bar – Sharp Shooters Billiards & Sports Pub is one stop shopping for a great night out! Check them out at www.sharpshootersbilliards.com ; As always, there will be a custom engraved Joss Cue raffle. The cue is valued at $1,900, anyone can participate, and you do not need to be present to win! We will draw for the cue on Sunday Feb 20 immediately prior to the final match.
For those in need of motel accommodations, there are 2 nearby: Super 8, 5502 Rt 30 S, Amsterdam NY 12010 – 518-843-5888 OR
Valley View Motor Inn, 1351 NY Rt 5 S, Amsterdam NY 12010 – 518-842-5637. Both are just off exit 27 of I90 (NYS thruway) and very close to Sharp Shooters.
This event at Sharp Shooters Billiards & Sports Pub will consist of a $1500 added Saturday and Sunday Main Event (entry Fee $120 for pro level or $70 for non pro level) and a $500 added second chance event on Sunday ($20 Entry Fee) for those non pro players eliminated from the main event on Saturday.
For those of you coming to play, please arrive on Saturday February 29, BEFORE 11:00 AM, and in proper dress please. Jeans and sneakers are permitted in our billiard parlor events only. But please, no T-shirts, tanks, shorts or sweats. Complete tour info can be found at www.joss9balltour.com
No word from Turning Stone about a season finale yet. I will let everyone know when and if they will hold it.
Please send all replies and inquiries to mzjosstour@aol.com or call Mike Zuglan at 518-356-7163. This gmail address is only used for announcements.
Please remember to spread the word to frequent your local billiard parlors and utilize the world class products of our most generous sponsors. They are the backbone of our sport and deserve our support!!
Thanks, and I hope to see you all at Sharp Shooters.
Mike Zuglan
The Joss Northeast 9-Ball Tour Is Proudly Sponsored By;