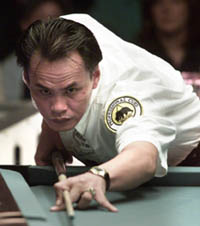 Francisco Bustamante
The Joss NE 9-Ball Tour is at Great Slates Billiard Lounge in Cambridge, MD for a $5000 added event with a field of 46 players looking to get that last tune-up in before the US Open kicks off on Monday.
The field has been narrowed to eight players who will be coming back on Sunday. The winners side will feature Young Hwa Jeong vs Danny Hewitt and Francisco Bustamante vs Frankie Hernandez.
The one-loss side will see 'The Freezer' Scott Frost take on Mike Davis and Shaun Wilkie face last week's runner up Danny 'Kid Delicious' Basavich. A fourth place or better finish by Basavich will move him to the top of the Joss Tour points list.
The eventual winner of the event will pocket $2500 in prize money with all eight remaining players assured of cashing on Sunday.
Incomplete payouts:
1st $2500
2nd $1800
3rd $1200
4th $900
5th/6th $650
7th/8th $450
9th/12th $250 Santos Sambajon, James Henson, Ryan McCreesh, Tony Chohan