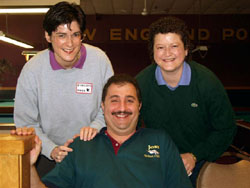 Karen Corr, Mike Zuglan and Julie Kelly
The Joss NE 9-Ball Tour finale is underway at Accu-Billiards in New Bedford MA with a field of 69 players.
Top players in this event include Francisco Bustamante, Johnny Archer, Frankie Hernandez, Jose Parica, Mika Immonen, Earl Strickland, Teddy Garrahan, Santos Sambajon, Alex Pagulayan, Rodney Morris and Karen Corr.
The first round will weed out all of the byes, but we have a possible marquee matchup between Bustamante and Archer in round 3.
Brackets are online and we will have updates and pictures all weekend, thanks to Diana Hoppe with Pool Pics by Hoppe.
Photo courtesy of Diana Hoppe - Pool Pics by Hoppe