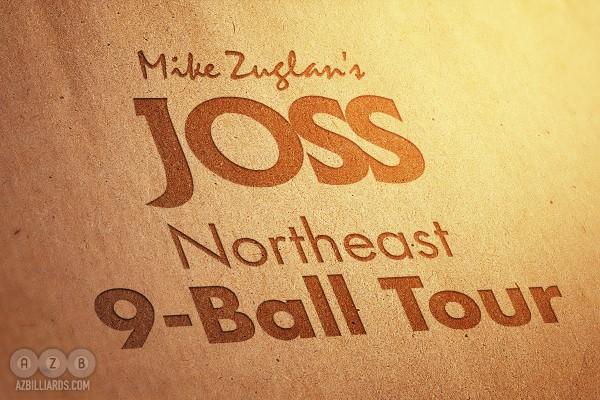 Players & Fans,
Congratulations to Stop # 9 winners,
Rodney Morris
($1,450 & 11th New England Pool & Billiard Hall Of Fame 9-Ball Open Champion),
Cleiton Rocha
($310 second chance), John Beaver ($1,600 Joss cue raffle winner). Also congratulations to
Jeremy Sossei
(entry into the Super Billiards Expo pro event generously provided by
Allen Hopkins
for being our 2018/2019 Tour Point Champion) & all of this years New England Pool & Billiard Hall Of Fame Inductees!
On March 21 & 22, stop # 10 of The Joss Northeast 9-Ball Tour, the "
Kevin Ketz
9-Ball Open" will be at Trick Shot Billiards & Sports Pub in Clifton Park (near Albany) NY. Our hosts Tim & Julie Berlin deserve many thanks from all of us for their continuing support and having already hosted 3 events this season at their other room, Sharp Shooters Billiards & Sports Pub!!! Thanks again Tim & Julie!! Trick Shot is a full service room with everything needed for a great time of pool and fun anytime. It is complete with a delicious full food menu and a separate full service bar where you can watch all of your favorite teams in action. Trick Shot has also become one our areas premier places for bands and entertainment with a recently completed major addition allowing for outside as well as inside gatherings. So come on over to Trick Shot Billiards & Sports Pub to play in or just watch yet another of our great events. While there, you could even win a gorgeous, custom, engraved, Joss Cue valued at $1,600 by participating in Trick Shot's cue raffle. Anyone can participate and you don't have to be present to win! The drawing will be just prior to the final match of the main event on Sunday. This amazing cue that will be given away at Trick Shot can be viewed here:
https://josscues.com/product/joss-northeast-9-ball-tour-cue-model-2019-20/
For more info about Trick Shot Billiards & Sports Pub, or to get directions and nearby motel info, please call them directly at 518-383-8771. Or visit their site at
www.trickshotbilliardsny.com
This event at Trick Shot will consist of a $1500 added Saturday and Sunday Main Event (entry Fee $120 for pro level or $70 for non pro level) and a $500 added second chance event on Sunday ($20 Entry Fee) for those non pro level players eliminated from the main event on Saturday.
For those of you coming to play, you must arrive on Saturday March 21, BEFORE 11:30 AM, and in proper dress please. Yes, jeans and sneakers are permitted in our billiard parlor events. But please, NO T-shirts, tanks, shorts or sweats. Complete tour info can be found on our site
www.joss9balltour.com
Lastly, I can't stress enough how important it is for all of you to please frequent your local billiard parlors and utilize the services of our most generous sponsors who are the backbone of our sport. These are the ones who keep our sport alive. So get out and play!
The Joss Northeast 9-Ball Tour Is Proudly Sponsored By;