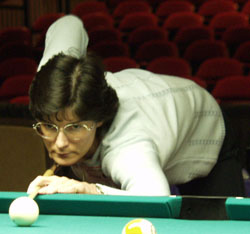 Karen Corr
As many of you that have been following the brackets know, this weekend (April 18th-19th) started off the new season for the J. Pechauer Custom Cues Northeast Women's 9-Ball Tour (JPNEWT) and Primetime Sports Bar & Grill in Sayreville, New Jersey was the host to the thirty-five women in attendance.

Included in the mix were several of the top names in the world of professional pool including Liz Ford, Karen Corr, Julie Kelly, and a hand full of other ladies that have dabbled on the pro scene numerous times such as Pam (Treadway) Cimarelli, Morgan Steinman, Liz Taylor, My-Hahn Lac, and Candi Rego.

Starting at around noon on Saturday, the $1500 added WPBA was off and running with many ready to rumble, but it was Pam Cimarelli that once again stood ahead of the pack picking off one player at a time to eventually snagging the hot-seat match on Sunday against Julie Kelly by a score of 7-2. Leading up to the hot-seat match, Cimarelli bested Pam Ogarek 7-0, Colleen Shoop 7-3, and in a double hill nailbiter, WPBA star Karen Corr 7-6 before playing Candi Rego and running away 7-1. Kelly never allowed anyone in her matches to get more than three games on her on her way to the hot-seat with wins over: Olga Gashkova 7-3, Theresa Intellisano 7-3, Erin McManus 7-1, My-Hahn Lac 7-3, and Supadra Boonpasook 7-1.

In the hot-seat itself, Cimarelli jumped on the board first with two wins, but Kelly brought the count back up to 2-2 shortly thereafter before missing. As anyone would know that has been around Cimarelli, that was not a deterrent at all, but a challenge, and when she returned to the table, she ran out four racks to seal Kelly's fate.

On Sunday from the one-loss side, the race to the finish line was in sight for the final eight, but Karen Corr would end up being the woman to beat as started the day with victories over Liz Ford 7-3, Supadra Boonpasook 7-2, Rhio Anne Flores 7-3, and Julie Kelly 7-3 in the semis to have a chance at revenge on Cimarelli in the finals. In the finals, it was pretty much all Corr as she reminded Cimarelli why she was one of the top players in the country with a finish of 9-2. Congrats to Pam Cimarelli on a great finish and on taking home the WPBA qualifier that was up for grabs.

Many thanks again to Primetime's owner Kevin Seltzer and his staff for hosting the ladies this weekend and to Linda Shea and Sharon O'Hanlon for their continuous efforts to bring a competitive arena in the mid-Atlantic region for the women. The next stop for the tour will be the New York State Championship in only two weeks (May 2nd-3rd) at Raxx Pool Room in West Hempstead, NY (website: www.raxxpoolroom.com) - the upcoming event will welcome professional players as well so put the word out and bring your best game.

For more information about the JPNEWT visit the tour website at www.jpnewt.com and to find out more about Primetime (both the pool room and their newly opened comedy theatre) contact them directly at (732) 721-6555 or visit www.primetimecomedyonline.com.