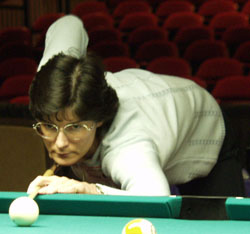 Karen Corr
This Saturday and Sunday (April 18th-19th) marks the beginning of the new season for the J. Pechauer Custom Cues Northeast Women's 9-Ball Tour (JPNEWT) at Primetime Sports Bar & Grill located at 960 Route 9 South, Sayreville, New Jersey.

The ladies are in for a treat this weekend as the venue is rather unique and offers another fun option after a grueling day of play. As you will see here [www.primetimecomedyonline.com] the room has opened a brand new comedy theatre that holds shows on Friday and Saturday and seats approximately 400 in addition to the pool scene (approximately twenty nine foot tables). These venues support the regional pool scene, this is a great way to support them as well if you aren't a die-hard pool player – bring a date in for a great night of laughs! Contact Primetime directly at (732) 721-6555 for more information.
Back to the women and action at hand – play begins shortly after the 11 am player's meeting on Saturday at this $1500 added event and will continue through to Sunday for the final few players. Ultimately, one competitor will make it out on top with a coveted WPBA qualifier under her belt. In attendance for the inaugural stop, Karen Corr, Julie Kelly, Morgan Steinman, My Hahn Lac, Liz Taylor, Cheryl Squire, Erica Testa, and me.
The tour would like to thank Primetime's owner Kevin Seltzer and his staff for hosting the ladies this weekend – we look forward to kicking off the new season with a bang! AZBilliards.com will have updated brackets throughout the weekend for those of you wanting to follow along with your favorite player and if you can't make it out to watch in person this time around, the second stop (the New York State Championship) will be held only two weeks out (May 2nd-3rd) at Raxx Pool Room in West Hempstead, NY (website: www.raxxpoolroom.com) - state championship events allow professional players as well, so it should be quite competitive to say the least.
For more information about the JPNEWT (
Linda Haywood Shea
, Director/Coordinator), stop into the website located at
www.jpnewt.com
Online Brackets