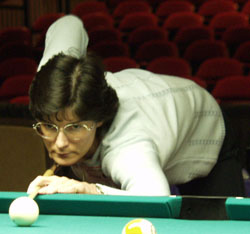 Karen Corr
The J. Pechauer Custom Cues Northeast Women's 9-Ball Tour has drawn to a close the 2008 Pennsylvania State 9-Ball Championship at Drexeline Billiards in Drexel Hill, Pennsylvania. The 2009 WPBA U.S. Open qualifier spot that was up for the taking went to Pam (Treadway) Cimarelli on Sunday afternoon after her victories over Tour Director Linda Shea 7-3 and ultimately Liz Taylor 7-1.

Taylor made it into Sunday beginning on the winner's side of the bracket, but Karen Corr pushed her west 7-3. Seems the score was the key to the day as the first few rounds of the morning ended the same. Shea began the day playing Julie Kelly undefeated, but was bested 7-3 as well. Once on the one-loss side, Shea ran into Cimarelli and took 5th/6th respectively. Always a colorful addition to the tour, My-Hahn Lac snuck past Brandi Brown before Liz Taylor did her in by a score of 7-3.

The semis pitted Pam Cimarelli and Julie Kelly together after Kelly lost on the hill to Corr. Kelly gave it her all as she was down 6-1 to Corr before coming back to tie up the set on the hill. At this point, Cimarelli was guaranteed the qualifier spot, but Kelly was on a mission and dropped her 7-2 to make it back to avenge her earlier loss to Corr.

The finals put Kelly and Corr up against each other with Corr immediately took the reigns. The two games that Kelly earned showed her play to be strong, but with Corr, the entire match looked effortless. Final results, Corr 7-2.

Congratulations to Nick Papageorge as well – he was the fortunate winner of the Dan DeCola custom cue valued at $1200 that was raffled during the weekend. Just prior to the final round, the lucky ticket was drawn. Enjoy the new cue Nick!

Again, special thanks to Bob Maidhof (who stated late in the day that he enjoyed having all of the players at his establishment), owner of Drexeline Billiards, for hosting the tour this weekend and to the many sponsors that contributed in some way to making the experience great: Yoder & Armstrong, Inc.; The Power of Printing; Sapphire Coach & Limousine; Master Class Cues (Dan DeCola, Maker); Sure Shot Billiards; Coca Cola; Black Boar; Action Vending; Accounting Offices of Frank J. DiSantis & Company; Peter Burrows; John E. Mulloy, Jr., CPCU, Drexel Agency, Inc.; Iwan Simonis; Top Notch Roofing; Keane's Oriental Rug Cleaning & Restoration Services; We Paint You Smile; Landscaping Unlimited; Dave Gosselin, LUTCF (Dave Gosselin Agency Nationwide Insurance); Hibachi Japanese Steak House & Sushi Bar; and Moe's Tavern & Grill.

As a reminder, Drexeline Billiards has weekly open handicap nine-ball tournaments every Tuesday night at 8 p.m. (entry $5) so if you are within driving distance, come check out the eighteen Championship Pocket Billiard Tables, two heated 5x10 C Tables, and four 32" flat screen televisions for your sports viewing pleasure. Monday through Fridays, the room has a day special between 8 a.m.-5 p.m. (call for details); and during the evening 5 p.m.-2 a.m. four people play at half price per table.

The tour website can be found at www.JPNewt.com or contact President/Tour Director Linda Haywood-Shea at (443) 852-0020, email linda.shea@jpnewt.com Drexeline Billiards' website is www.drexelinebilliards.com or contact them at (610) 259-9144.