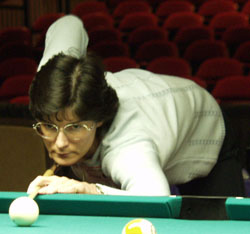 Karen Corr
Karen Corr has won the 2005 WPBA Southeast Classic at the Hard Rock Casino in Hollywood Florida.
Corr, who lost in the second round on Thursday to Kim White, came back with seven match wins to get to the TV rounds on Sunday. What should have been the biggest match of the day, #2 ranked Corr took on #1 ranked Allison Fisher. This match almost didn't happen as Fisher woke up with a bad muscle spasm in her neck and almost didn't make the match. With the assistance of Janet Atwell, a certified registered nurse, Fisher was finally able to play the match. Fisher was only a shadow of her usual self though, as she was forced to shoot either left handed or with the bridge for most of the match. By the time the spasm had let up enough for Fisher to shoot right handed, she was already down 6-2 in the race to seven. Fisher went on to lose the match to Corr 7-3.
Even with Fisher's medical problems, Corr would have given her all she could handle on this day as Corr was playing 'lights out' pool all day. Corr went on to defeat Monica Well 7-4 in the semi-final match to earn her a match against Ga-Young Kim in the finals.
The final match between Corr and Kim was 'nip and tuck' with the players tied at 4-4 when an error early in the rack by Kim allowed Corr to take a 5-4 lead. Corr went on to break and run the next rack for a 6-4 lead and Corr finished off the match with a win in the next rack.
Corr earned $10,000 for the win, with Kim settling for $7000 in second place prize money. With the win, Corr moved back to within 120 points of Fisher for the top spot on the WPBA points list.
Complete brackets for this event are available online at www.wpba.com