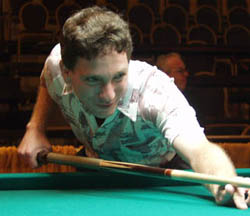 Tommy Kennedy
It will be Tommy Kennedy facing off against Neal Fujiwara for the hot-seat at the Seminole Pro Tour stop at Bankshot Billiards in Jacksonville, Florida.

Kennedy made short work of Gabe Owen 8-2 to kick off his Sunday, while Fujiwara had to work a little harder for an 8-6 win over Jeremy Jones.

Owen will now face Jerry Calderon on the one loss side, while Jones takes on Stevie Moore.

The final winner of this event will pocket $3000 for their weekend's work, while the runner-up takes home $2300.

Follow all of the action with our online brackets.