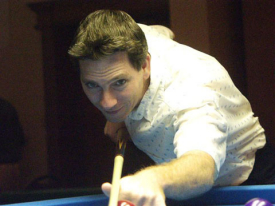 Tommy Kennedy
Tommy Kennedy combined a commanding performance in the hot seat match with a closely contested final match – both against Trevor Moore - to win his own J. Pechauer Southeast 9-Ball Tour stop on the weekend of May 9-10. Hosted by the Art of Billiards in Gainesville, FL, the $1000-added event drew 38 entrants.

"Great room," said Kennedy, shortly after posting his first win on his tour this year. "(Room owners) Art and Dana Rogers are really great hosts."

Kennedy began his final three matches with a 9-3 win over Randy Simpson that put him in the hot seat match for his first meet with Moore. Moore, in the meantime, had sent Bobby Garza west 9-6. Kennedy sent Moore to the semifinals with a commanding 9-1 performance that left him in the hot seat.

On the one-loss side, Ron Park and Tony Crosby were waiting for Simpson and Garza, respectively; Park having dropped Matt Bauries into the tie for seventh place 9-5, as Crosby got by Don Kreischer 9-7. Park advanced to the quarterfinals with a 9-3 win over Simpson and Crosby joined him with a 9-1 win over Garza. Crosby then dropped Park into fourth place and got himself into a tough semifinal battle against Moore. The two battled to a 7-7 tie, before Moore took advantage to reach the hill first and then break and run for a second chance at Kennedy.

Kennedy and Moore found themselves entangled in an equally tough battle in the early going of the final match; a race to 11. Kennedy got out in front by a couple of racks and reached the hill ahead by three. Moore continued to battle, winning the 18th game, but it was his last.

"(Moore) broke that last rack, but really didn't have much to work with," said Kennedy. "I finally got a good chance and made a great run."

Kennedy closed it out at 11-8 and after acknowledging the work of his assistant tour director, Tom Potter, took home the first place prize.