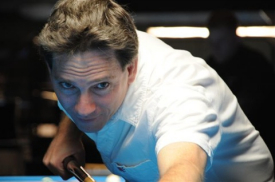 Tommy Kennedy
Tommy Kennedy
didn't exactly dismiss the talent of one
David Eyes
, but in the midst of a double hill struggle against him in the finals of his Southeast Open 9-Ball Tour stop on Saturday, January 8, he certainly re-evaluated. Kennedy prevailed to go undefeated in the $500-added event, which drew a short field of 10 entrants to the Miscue Lounge in Fort Myers, FL.
Six of the 10 players were awarded byes in the opening round of play, leaving Kennedy to face Steve Richardson, and
Troy Frank
facing Albert Baker. Kennedy and Frank advanced, moving on to meet Juan Encarnacion and Steve Gardner, respectively, in the event's second round. Second victories for Kennedy and Frank moved them among the winners' side final four, where Kennedy faced Eyes for the first time and Frank took on
Jeremy Boling
. Frank sent Boling west 9-7, as Kennedy chalked up a relatively easy 9-3 win over Eyes. Kennedy got into the hot seat with a 9-7 victory over Frank, fully expecting to see him again. It didn't happen.
Eyes opened his three-match trek back to the finals against Richardson, who'd defeated Gardner to reach him. Boling drew Baker, who'd ended Encarnacion's day. Eyes and Boling squared off in the quarterfinals, following Eyes' 7-5 win over Richardson and Boling's 7-3 defeat of Baker. Eyes, with Kennedy looking on, re-evaluating, battled his next two opponents – Boling in the quarterfinals and then, Frank in the semifinals. He forced a double hill, final game against them, won them both, and turned to face Kennedy.
For the third straight time, this time in a race-to-11 final, Eyes brought his opponent to the brink. As director of the tour, Kennedy had seen Eyes play before, most recently in their earlier match, and he stepped to the table with a lot of confidence; a confidence that underwent re-evaluation itself, as Eyes battled him to double hill. Kennedy sunk the final ball and chalked up the win, but came away from the table with a different perspective on his opponent.
"He played really well," said Kennedy after the match. "It was the best I'd ever seen him play."