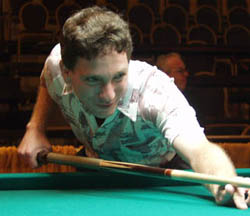 Tommy Kennedy
Tommy Kennedy went undefeated through a field of 26 players to win his second straight SE Open 9-Ball Tour stop at Doodles Billiards & Grill in Hinesville Georgia.
Kennedy used four 9-ball breaks to defeat Todd Drake 9-4 for the hot-seat and then waited for an opponent in the finals.
That opponent would be Ron Park, who defeated Drake in the semi-final match.
Park got to the hill first in the extend final match and lead 12-10, but Kennedy won the last three racks to win the match 13-12.
Kennedy collected $650 for the win, while Park took home $400 for second. Drake and Graham Dugas filled out the top four spots. Amanda Joblenske was the top finishing female player and Andy Strickland the top junior. Joblenske and Strickland both won $50.
The SE Open 9-Ball Tour will be at Palm Beach Billiards in N. Palm Beach Florida on November 22nd - 23rd for their next event. The event scheduled on December 6th - 7th at Cue Time Billiards in Sebring Florida has been cancelled.
Photo courtesy of Diana Hoppe - Pool Pics by Hoppe
Complete Payouts:
1st Tommy Kennedy $650
2nd Ron Park $400
3rd Todd Drake $300
4th Graham Dugas $250
5th/6th David Broxson, Glen Smith $100