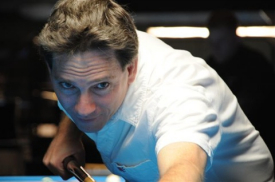 Tommy Kennedy
Tommy Kennedy won his own Southeast Open 9-Ball Tour for the second time in 2011 on Sunday, March 28. He went undefeated through a field of 43 players, on-hand for the $1,000-added event, hosted by Park Ave. Billiards, in Orange Park, FL.

To win it, Kennedy had to withstand a challenge from deep on the one-loss side by Rod Rentz, who won seven straight to meet him in the finals. Kennedy almost had to meet him in the semifinals, when David Grossman brought him to double hill in the hot seat match. Kennedy had sent Larry Jackson west 9-1, as Grossman was sending Ron Park over 9-7. Kennedy survived the double hill battle, and watched, as Rentz worked his way back through the west bracket.

Rentz got a bye in the opening round, and won his first match, before being sent to the one-loss side by Park. With two down and five to go, he got by Bobby Garza 7-2 and Bobby Moore 9-4 to earn a rematch versus Park. Jackson picked up Butch Croft, who'd defeated Kelly Lake 7-5 and Mike Clay 9-5. Rentz won the Park rematch 9-7, as Croft dropped Jackson into the tie for fifth place 9-2. Rentz then defeated Croft 9-7 in the quarterfinals and took on Grossman in the semifinals. In what would prove to be his last victory of the day, he dropped Grossman into third place to face Kennedy.

Kennedy had high praise for Rentz' effort, not only against him personally, but throughout the tournament. Rentz battled him strongly in the single, race-to-11 final, but Kennedy prevailed 11-9 to take the title. Asher Li picked up $25 as the highest-placing junior in the event, while Mandy Brisson and Rachel Manning split $25 for being the highest-placing ladies.