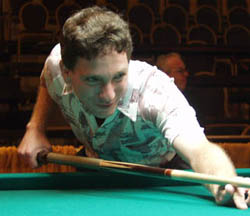 Tommy Kennedy
Tommy Kennedy emerged from a field of 28 players to win the SE Open 9-Ball Tour stop at Doodles Billiards & Grill in Hinesville, GA.
Kennedy trailed David Broxson 8-5 in the match for the hot-seat, but fought back to 8-8 before losing control of his cue ball and letting Broxson get back to the table where Broxon scored the 9-8 victory.
Kennedy went to the one-loss side and eliminated Doug Young to set up the rematch with Broxson, which Kennedy won 13-8. It was Kennedy's first victory over Broxson in the last 4 meetings between the two players. It was also Kennedy's third tournament win in the last four SE Open events.
Kennedy pocketed $700 for first, while Broxson settled for $450 for second. Young and Rod Rentz filled out the top four spots. Graham Dugas, from Hilton Head SC, had a fantastic tournament and finished tied for 5th place.
The SE Open 9-Ball Tour will be at Cunningham's Pool & Darts in Vero Beach, FL for their next event on June 21 - 22, 2003.
Photo courtesy of Diana Hoppe - Pool Pics by Hoppe