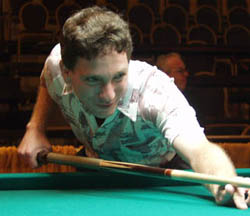 Tommy Kennedy
Tommy Kennedy avenged his only loss and defeated John Schmidt in the finals for the SE Open 9-Ball Tour win at Pockets Pool & Sports Bar in Tallahassee, FL.
Kennedy lost to Schmidt 9-6 for the hot-seat and looked to be done for on the one-loss side when Josh Kirby fought his way to an 8-6 lead. Kennedy dug down and won the next two games to get to hill-hill and then made the 1-ball on the break followed up by a great 2-9 carom in the case game to win the match. Kennedy then won the extended, race to 13, final match 13-10 for the tournament win.
Kennedy pocketed $600 for first, while Schmidt took home $300 for second. Kirby and Jimmy Wale filled out the top four spots. Amanda Snell and Glenn Tarrents were the top female and junior finishers.
The SE Open 9-Ball Tour will be at Jim Bob's Pool Hall in Gulfport, MS next weekend for a $2000 added event with a guaranteed first prize of $1000.
Photo courtesy of Diana Hopppe - Pool Pics by Hoppe