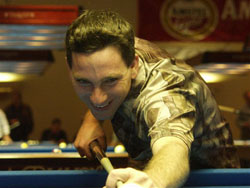 Tommy Kennedy
While Tommy Kennedy usually dominates the SE Open 9-Ball Tour, it has been nearly five months since Kennedy won one of the stops. He rectified that situation this weekend at The Palm Beach Open held at Victory Billiards in West Palm Beach, Fl.
It wasn't Kennedy who took the hot-seat. It was Mike Destefano and he sent Kennedy to the one-loss side early on Sunday. Destefano went on to take the hot-seat with a 9-8 win over Claude Marrie. Marrie went to the one-loss side, where Kennedy was waiting to end Marrie's tournament hopes with a 9-4 win.
Kennedy wasted no time in the extended final match and cruised to an 11-3 win over Destefano.
Kennedy earned $730 for first place, while Destefano pocketed $550 for second. Marrie finished in third.
The SE Open 9-Ball Tour will be at Mr.Cues II in Atlanta, Ga on December 11th and 12th for their next event.