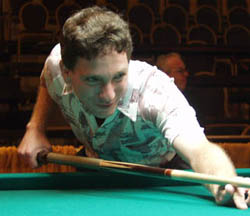 Tommy Kennedy
Tommy Kennedy
credits the removal of coffee from his diet for his recent string of three victories on his own Tiger Southeast Open 9-Ball Tour; the latest of which occurred on the weekend of August 27-28, at a $1,000-added event that drew 37 entrants to Zingale's Billiards in Tallahassee, FL.
"The change," he said, of his decision to quit drinking coffee about four months ago, "has been dramatic. I feel more steady, alive, and not so super-tired all the time. I drink tea now, so I don't think it was the caffeine. I think the coffee itself had something in it that disagreed with me."
This time around, unlike the back-to-back tournaments he won on the weekend of August 21-22, Kennedy had to come from deep on the one-loss side to chalk up the event win. Keith Brintan sent him to the one-loss side in the second round of play, and would face him again in the battle for the fifth-place tie.
Brintan advanced to the winners' side final four, where he was sent west by
Wayne Stone
. Josh Hilliard joined Stone in the battle for the hot seat, after defeating Kriss Pitts. All three matches among the final four winners were 9-2 victories for the advancing players, including the hot seat match, won by Hilliard, who then waited for Kennedy's return.
Brintan moved over and ran right into Kennedy, who'd defeated
Denny Fox
and
Luther Blades
to reach him. Pitts drew
John Amiss
, who'd gotten by Arthur Hunyh and Andrew Stewart. Kennedy wreaked his vengeance on Brintan 9-2 to move into the quarterfinals, where he was joined by Pitts, who'd downed Amiss 9-5.
Kennedy won the next two – the quarterfinals versus Pitts, and the semifinals against Stone – by identical 9-3 scores, and turned to face the remaining obstacle in his quest for a three-peat. He took the extended race-to-11 finals by a score of 11-4.
Denny Singletary
won a $100-added Second Chance tournament on Sunday, defeating Rich Whitacar in the finals 7-4. Venue owner
Mike Zingale
finished third, with
Cole Davis
in fourth place. Kennedy returned the $15 registration fee, included in the $35, Second Chance entry fee, to the tournament. In addition to thanking Vingale and his staff, Kennedy thanked both
Tracie Majors
, and Lee Lloyd for their assistance with the event.
1st Tommy Kennedy $720
2nd Josh Hilliard $480
3rd Wayne Stone $380
4th Kriss Pitts $280
5th Keith Brintan $180
John Amiss
7th Luther Blades $100
Andrew Stewart
Second Chance
1st Denny Singletary $280
2nd - Rich Whitacar $170
3rd – Mike Zingale $100
4th Cole Davis $80