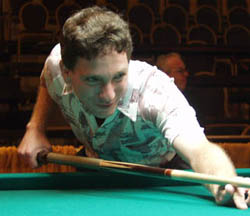 Tommy Kennedy
Tommy Kennedy
's Southeast Open 9-Ball Tour happened to schedule two separate events on the same weekend. The first, on Saturday, August 20, happened at Hammerheads in Holiday, FL, while the second, on Sunday, August 21, was about two hours south, at Veteran's Billiards in Port Charlotte. Kennedy won them both, defeating
Mike Davis
in the finals both times. The $1,000-added event on Saturday drew 34 entrants to Hammerheads, while the second, another $1,000-added event, drew 18 to Veteran's Billiards.
Davis advanced to the hot seat in the Saturday event, sending Kennedy to the semifinals, from whence he'd return to defeat Davis in the finals. In the Sunday event, Kennedy sent Davis to the one-loss side from among the winners' side final four and faced
Tony Crosby
in the battle for the hot seat. Crosby went to the semifinals where he was downed by Davis, who returned to face Kennedy. They played four matches over the two days, and Kennedy took three of them.
On Saturday, Kennedy had sent
Han Berber
west 9-7, as Davis was sending
Erica Park
over 9-5. This set up the first of their four; advantage, Davis in the battle for the hot seat 9-4.
Berber moved over to take on Mike Delawder, while Park faced
Adam Wheeler
, who'd been sent west 8-3 by Kennedy from among the final eight winners. Wheeler and Delawder made Berber and Park's loss-side journey brief; Wheeler downing Park 7-3, and Delawder finishing Berber's day 7-5.
Wheeler won the quarterfinals that followed, and got a second chance versus Kennedy in the semifinals. Kennedy had allowed him only three racks in their first meeting, and gave up only one more in the second match. Kennedy tied the four-game matchup between he and Davis at 1-1 with a commanding 11-3 win in the extended race-to-11 finals, that spoiled Davis' bid for an undefeated day.
On Sunday, they met up first among the winners' side final four. Kennedy sent Davis west 9-3, and in the hot seat battle, faced Tony Crosby, who'd just defeated
Frank Strain
9-2. Kennedy gained the hot seat with a 9-5 win over Crosby, and waited for his fourth and final matchup versus Davis.
First up for Davis on the one-loss side was John Filax, who'd gotten by Eddie Falcon 7-4, and
Travis Laswell
7-5. Strain picked up
Devon Rogers
, who'd defeated
Bill Bloom
and Steve Richmond, both 7-4. Davis and Rogers squared off in the quarterfinals, once Davis had defeated Filax 7-4 and Rogers had eliminated Strain 7-2.
Davis survived a double hill battle against Rogers in those quarterfinals, and followed that with a 7-3 victory over Crosby that gave him a second (make that fourth) chance against Kennedy. Davis put up a stronger fight in Sunday's race-to-11 finals, but Kennedy finished it two games in front at 11-9 and completed his undefeated day.
"This," said Kennedy on Monday, "should just about pay my (cell phone) bill."
Saturday, August 20
1st Tommy Kennedy $750
2nd Mike Davis $500
3rd Adam Wheeler $400
4th Mike Delawder $300
5th Erica Park $150
Han Berber
Sunday, August 21
1st Tommy Kennedy $600
2nd Mike Davis $380
3rd Tony Crosby $300
4th Devon Rogers $200