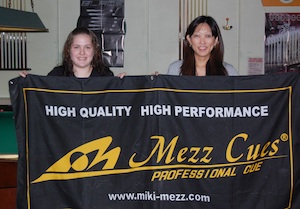 Brianna Miller and Gina Kim
The Mezz Women tour made its way to Main Line Billiards in Frazer PA on Saturday September 18th where a small but strong field came out to play. Special thanks to Mike Nardo, owner of Main Line Billiards, for hosting the event.

Leading the top half of the bracket was Yomaylin Feliz with wins over Grace Trump 7-2, and Samantha Miskevich 7-2. Leading the bottom half of the bracket was Briana Miller with wins over Linda Cheung 7-4 and Caroline Pao 7-3. Playing for the hot seat it was Yomaylin Feliz vs Briana Miller. This was a great match that went hill-hill before the birthday girl Briana Miller won 7-6 sending Feliz to the one lost side.

Making the move on the one loss side was Gina Kim with wins over Linda Cheung 7-3, Samantha Miskevich 7-2 and Caroline Pao 7-5. Kim faced Feliz for the right to take on Miller in the finals and the fans were treated to another great hill-hill match that saw Kim get the win 7-6.

The final match between Briana Millier and Gina Kim didn't happen as both players agreed to be co-champions for the points. I would like to thank all the sponsors and players that came out to play.