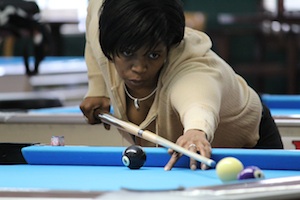 Kim Jones (Photo courtesy of Suzanne Smith)
June 11-12, 26 women came out to compete at Malarkey's Pool & Brew in Tacoma, WA for the NWPA's third tour stop of 2011. With the WPBA's US Open coming up the following week, it would prove to be a great warm up for NWPA representatives, Kim Jones and Liz Cole. With 26 ladies, Malarkey's added $500 to the Main Event prize fund.

Located at 445 Tacoma Avenue South Malarkey's has 11 Brunswick Gold Crown 9-foot tables and 10 Valley barbox 8-foot tables, a superb juke box, and fantastic menu. Open daily from 11 a.m. to 2 a.m, there is something for everyone. There are pool tournaments Wednesday and Friday for 9-ball, Sunday afternoon 8-ball, and 211 10-Ball tournaments on Tuesday and Sunday. And for the nonpoolplaying folk there is karaoke, Comedy Club, and Open Mic nights thrown into the mix. The NWPA would like to thank Malarkey's and room owner Clark Smith for their gracious hospitality and continuing support of the NWPA by hosting their 3rd event in as many years.

Play began at 10 am Saturday morning and although the field was small, there was still one "new" player to the tour that we would like to welcome: local veteran player Clara Silvas. After a long Saturday, five ladies came to compete in a $100 added, $10 entry Second chance event. With only 5 players, the 2nd Chance event ended up being a round robin format that ended up going into the final round to determine the winner. Clara Silvas edged out Suzanne Smith to win top prize. Congratulations Clara!

In the Main Event, eight players remained on Sunday morning. On the A side Liz Cole vs. Cindy Sliva and Kim Jones vs. Jana Montour. Cindy and Kim defeated their opponents 7-4 and 7-3 to square off for the hot seat which Kim won 7-4. On the B side Debbie Cicchiti vs. Mona Remedios and Mikki Small vs. Shelby Locati. Mona defeated Debbie 7-4, while Shelby survived a hill-hill match up with Mikki to advance to the next round. Fresh off of their first losses, both Liz and Jana regained their fire power and defeated Mona and Shelby 7-3 and 7-5, respectively. The next round, Jana defeated Liz 7-4 to earn her spot in the B side final against Cindy Sliva. Both players were shooting well; however, Jana capitalized on a few untimely mistakes by Cindy to take the match 7-4. This being Cindy's first stop in 2011, it was great to see her resume right where she left off in 2010, her sound fundamentals are always a pleasure to watch.

Kim Jones path to the final: Stacy E (4), Eve S (1), Shelby L (2), Jana M (3), Cindy S (5)

Jana Montour path to the final: Jessica O (2), Mary H (1), Andrea SM (2), loss to Kim J (3), Mona R (3), Liz C (4), Cindy S (4)

Straight out of the gate, Kim was shooting extremely well and Jana appeared to be struggling. After the lag, Kim and Jana both won their first game breaking. Tied at 1, Kim then made a beautiful 5 and 7 ball out to go up 3-1. Game 5 looked to be more smooth stroking by Kim, as she broke and ran down to the 8 ball, but then missed. An uncharacteristic scratch while pocketing the 8 let Kim back to the table with ball in hand on the 9 to go up 4-1. Jana and Kim exchanged racks for the next four games. At 6-3, Jana broke dry and Kim ran out to get within two games of the win. In game 11 (7-3 Kim), Kim broke dry leaving no hit on the 1. Instead of pushing, Jana opted to go for the hit and ended up fouling. Kim ran down to the 8 and missed it allowing Jana back to the table. Jana pocketed the 8 and 9 to make the score 7-4. In game 12, misses and safeties by both players gave Jana the opportunity to run from the 5. Jana pocketed the 5, 6, and 7, but then scratched to give Kim ball in hand with two balls. Kim pocketed the 8 and 9, reaching the hill first. In game 13, Kim broke dry (for the sixth time of the set). Jana took her time to compose herself, walking around the table an extra time. Jana pocketed the 1, but ran into the 2, forcing her to play safe which she missed. Another miss by Kim allowed Jana back to the table, with a tough out, but doable. Jana, too, missed her shot on the 2. Kim pocketed the 2, but then hung the 3. Jana ran the 3, 4, 5, and 6 but then rattled the 7. Kim ran the last three balls to close out the game and win the match 9-4. Great tournament ladies.

Thanks to our title sponsor Mueller (www.muellers.com ), if you buy online give a shout out to the NWPA to show your support of our tour. Thanks to our tournament directors Chris and Ford for running an, as always, smooth event and Rail2Rail Productions for providing the Live Stream throughout the event. Special thanks to all of the ladies that took some time to contribute with commentary on the live stream. Our next stop is July 8-9 at Black Diamond Billiards in Spokane, WA.