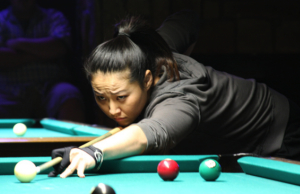 Kyu Yi
Deanna Henson and Kyu Yi were quietly moving through the brackets on Saturday and Sunday of the Championship stop at Legend's Billiards in League City November 22-23 of the OB Cues Ladies 9-Ball Tour. Both players have amazing talent and so it was no surprise they would meet in the finals, but who would win? Kyu Yi's highest finish was second place last year in the summer and Deanna hadn't won an event since 1997. They would meet in the hot seat and then again in the finals to see who would come out on top.

On Sunday morning, 12 players of the 42 remained. On the winner's side, Lisa Marr was bested by Kyu Yi 7-1 while Deanna Henson bested Kim Pierce hill-hill. On the one-loss side, 9th-12th place matches saw Bonnie Plowman over Cristina De La Garza 7-5, newlywed Jillian Martinez over Heather Lloyd 7-4, Liz Cole over Lisa Henderson-Major 7-6 and Amanda Lampert over Board Member Julie Stephenson 7-5. 9th-12th place paid $70. Amanda then bested Liz (from Oregon) 7-2 while Bonnie bested Jillian 7-3 for 7th/8th finishes and $100.

Bonnie was stopped by Lisa Marr 7-4 and Amanda stopped Kim 7-2. Kim Pierce and Bonnie Plowman placed 5th/6th and earned $155 for their fine efforts. Lisa Marr, newly-crowned Tour Champion (she had enough points in this event to secure the Tour Champion title!), then won 7-4 over Amanda. Amanda Lampert placed 4th and won $260.

Kyu Yi and Deanna Henson played for the hot seat and Deanna won by a close score of 7-5. Kyu then played Lisa Marr for 3rd where Kyu won 7-3. Lisa won $400 for 3rd place. Congrat's on the finish and for earning the 2008 Tour Champion title, Lisa!

The rematch was on between Kyu and Deanna in the finals. Kyu won the first set 7-2 which forced a second set. While the score was closer, the outcome was the same in the second set: Kyu won 7-4 to double dip Deanna in the finals and win the tournament. Kyu claimed 1st place and $750! Deanna Henson won $550 for 2nd place AND the WPBA Qualifier for the first WPBA event of 2009!

Courtney Peters won the Second Chance tournament over Helen Hayes and Tracie Voelkering placed 3rd.

Other winners in this Championship Stop: Tracie Voelkering won the "Tour's Most Loyalist Member Award" and Melinda Bailey won the "Most Improved Player Award." Lisa Marr not only won the "2008 Tour Champion" title, she also won one of the OB Cues that was raffled off. Additionally, Deanna Henson not only won the WPBA Qualifier, she won the other OB Cue that was raffled off.

Congratulations to all the ladies!

Thanks to Mindy Cohen for hosting this event and adding $2,000 for the ladies! We appreciate you, Mindy!

A BIG Thank You to OB Cues for sponsoring the tour and providing the ladies a chance to reach their dreams.

Good Pool, Good Friends, Good Times - The OB Cues Ladies 9-Ball Tour.