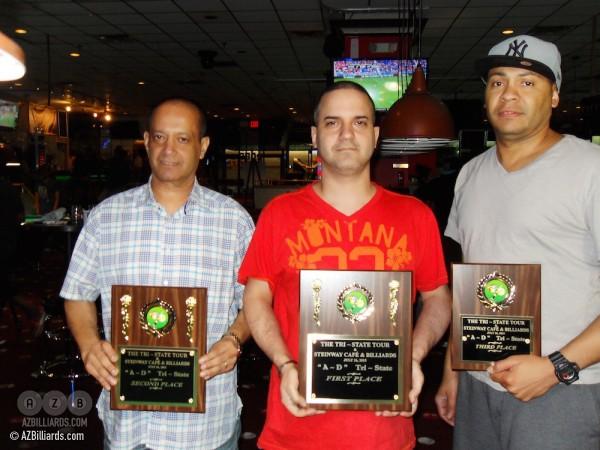 Amir Rashed Uddin, Miguel LaBoy and Ambi Estevez
Though
Miguel Laboy
is on track to duplicate his 2014 earnings at the pool table, when he won four stops on the Tri-State Tour, it has taken him until Sunday, July 26 to win his first 2015 Tri-State stop. Sitting atop the tour's A+-A class, 140 points behind
Keith Adamik
, Laboy came from the loss side on Sunday to win the $1,000-added event that drew 34 entrants to Steinway Billiards in Astoria (Queens), NY.
Following wins over
Ramon Feliciano
,
Tony Liang
, and Fernando Paulino, Laboy moved into a winners' side semifinal match against Amir Rashed Uddin.
Ambi Estevez
, in the meantime, squared off against
Bob Toomey
. In a tightly-fought battle that went to double hill, Uddin defeated Laboy. Estevez downed Toomey 6-4 to join Uddin in the hot seat match; claimed by Uddin in his second straight double hill win.
Laboy moved over and picked up
Jimmy Acosta
, who'd defeated Fernando Paulino, double hill, and
Lidio Ramirez
7-4, to reach him. Toomey drew
Xavier Romero
, who'd shut out
Adrian Daniel
, and eliminated
Sam Hoffman
6-4. Laboy and Toomey advanced to the quarterfinals; Laboy 7-3 over Acosta, and Toomey 6-4 over Romero.
Laboy eliminated Toomey 10-8 in the quarterfinals, and then, spoiled Estevez' bid for a rematch against Uddin, with a double hill win in the semifinals that gave him the second shot at Uddin. The finals didn't begin well for Laboy.
Uddin opened up with three straight racks. Laboy responded with two, to pull within one. Uddin came back with two of his own to re-establish a three-point lead, at which point, the tide turned. Laboy ran four racks to go ahead by one. Uddin responded with a rack to knot things at 6-6, but it was his last. Laboy took three straight to claim the event title.
Tour representatives thanked the ownership and staff at Steinway Billiards for their hospitality and continuing support of the tour, as well as sponsors Ozone Billiards, Sterling-Gaming, Kamui Tips, Ron Vitello, Phil Capelle, BlueBook Publishing, Human Kinetics, and Bloodworth Ball Cleaners. The next stop on the Tri-State Tour, scheduled for Saturday, August 1, will be hosted by Clifton Billiards in Clifton, NJ.