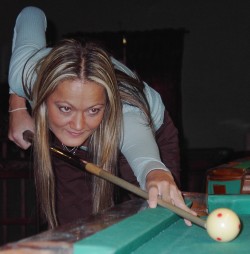 Debbie Schjodt will play Jasmin Ouschan on Sunday morning
The Ladies Spirit Tour stop at Hammerhead Billiards in Holiday Florida is now down to the final eight players with hopes of earning the $700 first place.

The winners side sees Jasmin Ouschan facing Debbie Schjodt and Line Kjoersvik taking on Leslee Davis-Blakie.

On the one loss side, Korean Yu-Ram Cha will hope to keep her streak of recent tourney wins alive when she faces tour regular Tracie Hines and Ellen Van Buren will face Stephanie Mitchell.

All of Saturday's score can be found on our online brackets.