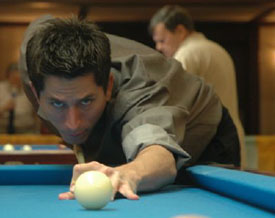 Stevie Moore
TheActionReport.com is proud to present another great challenge match between Chris Bartram of Columbus, OH. vs Stevie Moore of Atlanta, GA. Both of these battle tested road players have come to Side Pockets in Kansas City, MO. to go head to head over three days in a 10 Ball Race to 100. The entry fee is $10,000 per man and the winner takes all.

You can watch all of the action LIVE on streaming Pay Per View at www.theactionreport.com. The match schedule is below:

Play begins at 2 PM Eastern each day

Today they will play until one player reaches 35 victories.
Wednesday they will play until one player reaches 70 total victories.
Thursday they will finish the set to 100 and one man will win $20,000 and one will go home with nothing.

The price for the Pay Per View is:

All three days $25
Last two days $20
Final day only $15

The links to purchase the packages will be posted as the match progresses. To purchase the match today go to www.theactionreport.com.

We would like to thank our match sponsors for helping us put on this exciting challenge match: BCA Pool Leagues ( www.playbca.com ) Diamond Billiard Products ( http://www.diamondbilliards.net ) and Steve Klapp Custom Cues.

Join us for this exciting match between two of the best players in the United States.